Survey Question
Sponsored by L&C Coins
How many PCGS-certified coins do you add to your collection each year?
1 – 10
11 – 50
51 – 100
Over 100
None

Participate in the PCGS Newsletter Survey and you could win a 1963 50C PCGS PR valued at $30.00.

Last Issue's Winner:
Bill Reed
*Rules & Disclaimer 
Interested in submitting your own survey question? We'd love to see what you can come up with! Email your question (plus 5 multiple choice answers) and see if your question makes a future eCollector.
Legend Rare Coin Auctions October 2, 2014 Regency Auction IX Preview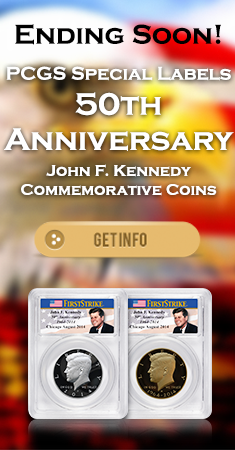 Show Calendar
PCGS Members Only Show
Las Vegas, LV
October 1-4, 2014
Baltimore Winter Expo
Baltimore, MD
October 30 – November 1, 2014
PCGS Members Only Show
Las Vegas, NV
November 19-22



A History of Major U.S. Hoards: The Redfield Hoard
by Mike Sherman
In the third installment our of Major U.S. Hoards series, PCGS Director of Education Mike Sherman reviews the LaVere Redfield Hoard, which consisted mostly of uncirculated silver dollars. Who was LaVere Redfield and how many of his coins were discovered? Read on to find out.





Let's Go To Africa!
by BJ Searls
The African region that is currently known as the Democratic Republic of Congo has had a turbulent history since the first Belgian colonist arrived in the 1870s. Since that time, five different eras from Congolese history are of particular interested to numismatists. Set Registry Director BJ Searls describes each era and outlines some of the top coins you many want to collect.


PCGS CoinFacts has Grown

Each day, PCGS CoinFacts becomes bigger, better, more valuable, and more useful. We offer information, images, expert narratives, pedigree listings, and condition census rankings that you will not find anywhere else.
PCGS CoinFacts is a must-have resource for anyone involved in the coin market. This is powerful information that you need to succeed.
Come back and see what we've built for you. We've reset Free Trials so past members can see how much we've grown. Hope you check it out.
– Ron Guth, President, PCGS CoinFacts


More Than a Nickel's Worth: A History of Hobo Nickels


In this classic article first published on PCGS.com in 2000, author David Ferris defines the role of Hobo nickels in numismatics, stating "hobo nickels boast an unusual quality that contributes to their uniqueness. They are born of free thinking, free-spirited human beings rather than minted in uniform multitudes by a passionless machine." Journey into the world on hobos, nickels and hobo nickels through this fascinating read.


Bidding is Open for the Legend Rare Coin Auctions' October 2 Sale


Legend Rare Coin Auction's October 2 Regency Auction IX featuring the Sunnywood Collection is now live for bidding. The auction will be held in conjunction with the PCGS Members Only Show at The Bellagio in Las Vegas