Survey Question
Sponsored by L&C Coins
If you were to start your collection today, which of these coins would you add first?
1877 Indian Cent
1916-D Mercury Dime
1932-D Washington Quarter
1921-D Walking Liberty Half Dollar
1928 Peace Dollar

Participate in the PCGS Newsletter Survey and you could win a 2009 $1 PCGS SP valued at $75.00.

Last Issue's Winner:
Jesse Hamada
*Rules & Disclaimer 
Interested in submitting your own survey question? We'd love to see what you can come up with! Email your question (plus 5 multiple choice answers) and see if your question makes a future eCollector.
Top 10 Collector Coins – The Key Coins for Every Collection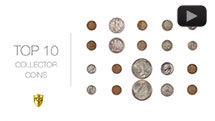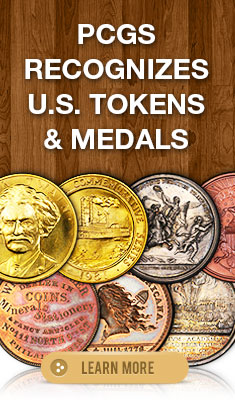 Show Calendar
PCGS Members Only Show
Las Vegas, LV
October 1-4, 2014
Baltimore Winter Expo
Baltimore, MD
October 30 – November 1, 2014
PCGS Members Only Show
Las Vegas, NV
November 19-22



Central America 2.0
by Mike Sherman
It's back! Some 27 years after the discovery of the S.S. Central America, and about a dozen years after the original offering of lost treasures from the 1857 shipwreck, another load from the ocean floor is about to begin the process which will eventually lead to its entry into the numismatic marketplace.





PCGS vs Comedy Central: The Conclusion
by Phil Arnold
As we documented last month, PCGS Photographer Phil Arnold discovered that cable giant Comedy Central that altered one of his images for use in a promotional campaign for the show Drunk History. Phil is happy to report that the 'case' has been settled out of court.


The Curious Case of Judd 1022

PCGS recognizes both Mint State and Proof versions of Judd 1022, but researchers have always wondered why such a rare pattern would be struck in two formats, or if they really were. After all, most patterns are either Mint State or Proof, but not both. As Ron Guth explains, CoinFacts research led to the riddle being solved.



Mint Offers Presidential Dollar Four Coin Set
by Jaime Hernandez
On September 16, the U.S Mint began offering the Uncirculated 2014 Presidential Dollar Coin sets. The Sets contain coins depicting Presidents Warren G. Harding, Calvin Coolidge, Herbert and Franklin D. Roosevelt.


The Simpson-Sunnywood Collection of Toned Morgan Dollars Going to Auction


Legend Rare Coin Auctions' October 2 Regency Auction IX will feature the Simpson-Sunnywood Collection of Toned Morgan Dollars. The auction will be held in conjunction with the PCGS Members Only Show at The Bellagio in Las Vegas.