What Price Finest Known?
by Ron Guth
From the time we start collecting, we're told to buy the finest grades we can afford. Though not stated explicitly, the implication in this advice is that if we have enough money, we should buy the finest example known – the one at the top of the Condition Census. In most cases, the best individual coin is vastly more expensive than the next best one. We're somewhat safe when the finest grade is populated with multiple examples, but if there is ever a breakout coin that is half a point better than the crowd, we can expect to pay a huge premium. Thus, for most collectors, buying Finest Knowns is an exercise in futility because we simply can't afford them.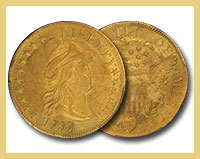 $10 1797 LG Eagle PCGS AU58+
PLUS 30 OTHER GREAT NEWPS: NOW POSTED!
Sponsored by
Legend Numismatics
Original, very choice AU specimen. Tied with one other coin as AU58+, this coin has never sold in any auction before.