Great Set's Appeal – Type-I Double Eagles
by Adam Crum
A "young" 19th century America experienced the sensational California Gold Rush, a Civil War that pitted brother against brother, and the minting of its first $20 coin, the Type-I Double Eagle, struck from 1849 to 1866. California gold inspired the minting of the large pieces, as desire grew in the day for a more compact form of payment. Our big gold beauties were born!
Though many dates of this series in higher grades are extremely rare and can be prohibitively expensive, many spectacular specimens, with superb eye appeal, are today more affordable than ever, thanks to the hoards recovered from the SS Brother Jonathan, SS Central America and SS Republic shipwrecks. Good dates for exceptional eye appeal and value to search out are 1857-S, 1865 and 1865-S. This 41-date series would be a very rewarding endeavor. Read More at MonacoRareCoins.com >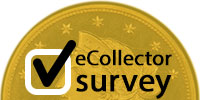 Sponsored by L&C Coins
Does toning matter to you?
No, I don't collect coins that will tone
No, toning is unimportant to me
Yes, I prefer coins with minimal toning or in the white
Yes, I prefer coins with attractive toning, but would NOT pay any premium
Yes, I prefer coins with attractive toning and WOULD pay a premium
Take the Survey >
Last issue's winner of a PCGS Polo Shirt: Thomas Rohling