PCGS Newsletter




November 15, 2016

Seventy at Seventy
by Mike Sherman

You may not know it, but the Red Book, aka the coin collector's bible, is soon turning 70. To pay homage to the revered reference book, Director of Education Mike Sherman chose 70 U.S. coins and tracked them at 10-year intervals with the book, from 1947's first edition to the 2017 edition, and will chronicle his findings in an ongoing series.

READ MORE >
Legend Numismatics $1 1841 PCGS PR63 EX Starr-Kauffman

No exact mintage, but it is estimated that only 6-12 coins were ever minted. It is so rare that after 30+ years of operations, PCGS has graded only this coin and the PR64 that Legend sold for six figures last year. This incredible, ultra rare gem is being offered at only $69,500. View this coin and more NEWPs.

LegendNumismatics.com >
Setting Collecting Goals — Quality Vs. Cost
by Ron Guth

Decision-making is an integral part of collecting coins. What series should I collect? What's my budget? PCGS CoinFacts President Ron Guth offers a bit of guidance for collectors facing these questions, but stresses that there is no right or wrong answer.

READ MORE >
Final Days to Bid! Legend Auctions' November Session ends Thursday, November 17

This Mercury Dime is a firecracker! Bold satin frost is blisteringly bright with razor sharp details. Legend Auctions offers this and other spectacular coins in its November Session, which closes this Thursday.

READ MORE >
This is Why Graders Need to Watch Coins Closely
by Jaime Hernandez

Sometimes coin graders get the occasional surprise. In this case, that surprise came in the form of a coin that wasn't a coin at all. Here's a look back on why graders should always keep close "watch" of coins

READ MORE >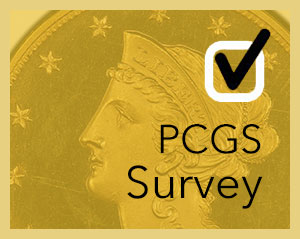 Sponsored by L&C Coins
What's your numismatic reference book of choice?
The Red Book
Or its counterpart, The Black Book
Take the Survey >
Last issue's winner of a PCGS Polo Shirt: Benjamin Wu
Download Our Apps:
Encyclopedic Coin Content
High-Resolution Photography
Optimized for Mobile
---


Download Our Free Numismatic Mobile Apps

Don't miss future emails from us; add [email protected] to your address book!
© 2016 PCGS, Inc. A Division of Collectors Universe. All Rights Reserved. NASDAQ: CLCT
PCGS, Professional Coin Grading Service, P.O. Box 9458 Newport Beach, CA 92658.