1808 1/2C, BN VG8BN
Certification #22007254,
PCGS #1107
Owner's Comments
3025824472 RAW to ANACS to PCGS
Expert Comments
Ron Guth
1808 Half Cents are found with a "normal" date and an overdate (last 8 over a 7). "Normal" is in parentheses because the date is actually quite unusual -- the final 8 of the date was constructed by punching the zero of the denomination into the coin twice. Thus, the final 8 does not match the first 8 at all.
The "Normal" 1808 Half Cent is one of the more common dates in the series. While several Unicrculated examples are known, none have earned the Red-Brown or Red designations. Thus, the collector is left with mostly Brown examples, with only a trace of original mint red at best.
Diameter
23.50 millimeters
Region
The United States of America
Price Guide
PCGS Population
Auctions - PCGS Graded
Auctions - NGC Graded
Rarity and Survival Estimates

Learn More
65 or Better
500
All Grades
20
60 or Better
0
65 or Better
R-6.0
All Grades
R-9.1
60 or Better
R-10.1
65 or Better
11 / 18 TIE
All Grades
4 / 18 TIE
60 or Better
1 / 18
65 or Better
11 / 18 TIE
All Grades
4 / 18 TIE
60 or Better
1 / 18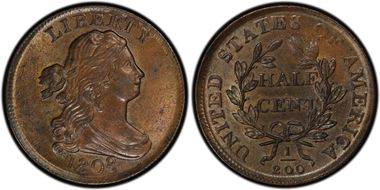 #1 MS64+BN PCGS grade

William K. Raymond, sold privately on 9/8/1976 - R. Tettenhorst Collection - Missouri Cabinet (Mocab 08.3.7) - Goldbergs 1/2014:91, $71,875 - D. Brent Pogue Collection, Part V - Stack's/Bowers & Sotheby's 3/2017:5058, $56,400 - High Desert Collection (PCGS Set Registry)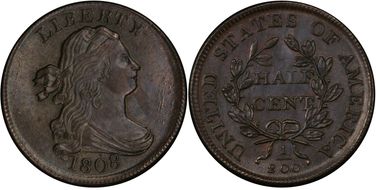 #1 MS64+BN PCGS grade
#3 MS64BN PCGS grade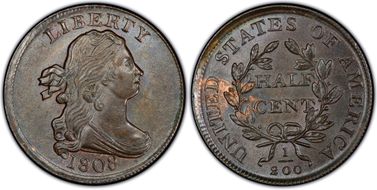 #4 MS63BN PCGS grade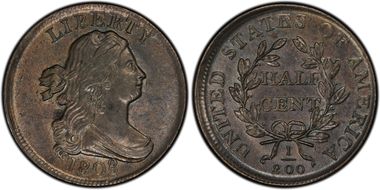 #4 MS63BN PCGS grade