1809/6 1/2C 9 over inverted 9, BN XF45BN
Certification #38637314,
PCGS #1126
1809/6 1/2C 9 over inverted 9, BN
Expert Comments
Ron Guth
For decades, this variety has been known as the 1809/6 overdate, implying that the final digit is a 9 struck over a 6. However, such is not the case, as there never was an 1806 dated Classic Head Half Cent. In this case, the 9 of the date was punched into the die upside-down, thus appearing as a 6. The error was caught immediately and corrected by repunching the 9 in the proper orientation over the previous "6". Today, the variety is very popular since it is the only "overdate" in the Classic Head series.
Diameter
23.50 millimeters
Region
The United States of America
Price Guide
PCGS Population
Auctions - PCGS Graded
Auctions - NGC Graded
Rarity and Survival Estimates

Learn More
65 or Better
1200
All Grades
50
60 or Better
2
65 or Better
R-4.9
All Grades
R-8.5
60 or Better
R-9.9
65 or Better
7 / 16
All Grades
4 / 16 TIE
60 or Better
2 / 16 TIE
65 or Better
7 / 16
All Grades
4 / 16 TIE
60 or Better
2 / 16 TIE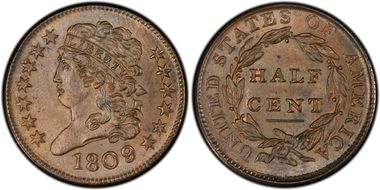 #1 MS65BN PCGS grade

Howard Rounds Newcomb Collection (valued by Newcomb at $4), sold privately in 1935 - B. Max Mehl, sold privately in 1935 - Col. E. H. R. Green Collection (appraised by F. C. C. Boyd for the Green Estate at 75¢ on 8/9/1937), sold in 4/1943 for 75¢ - Partnership of Eric P. Newman & Burdette G. Johnson (St. Louis Stamp & Coin Co.) - Eric P. Newman Collection - Eric P. Newman Numismatic Education Society - Missouri Cabinet (Mocab 09.5.9) - Goldbergs 1/2014:97, $60,375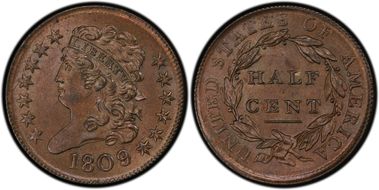 #1 MS65BN PCGS grade

Doris E. Nelson - Toby and Doris E. (Nelson) Szymanski (the "TAD" collection) - Stack's 3/1975:842, $500 - R. Tettenhorst Collection - Eric P. Newman Numismatic Education Society - Missouri Cabinet (Mocab 09.5.2) - Goldbergs 1/2014:96, $55,200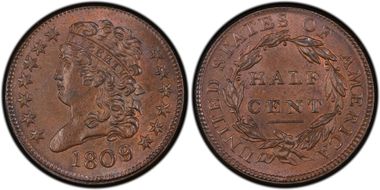 #1 MS65BN PCGS grade

Michael Moriarty, sold privately in 6/1986 - Carvin Goodridge Collection - Goldbergs 9/2012:257 - Jim McGuigan Collection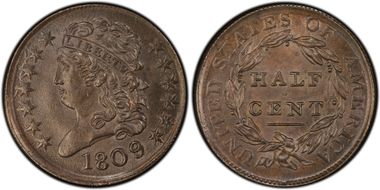 #4 MS64BN PCGS grade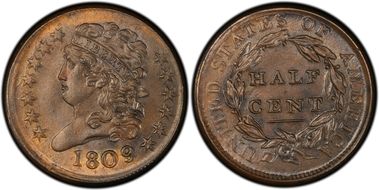 #4 MS64BN PCGS grade