1783 Token Georgivs Triumpho, BN VF35BN
Certification #38540544,
PCGS #664
1783 Token Georgivs Triumpho, BN
Expert Comments
Ron Guth
The 1783 "Georgivs Triumpho" Tokens circulated in Georgia and Virginia and saw later use in Jamaica and Florida. In recent years, one was found with a metal detector in South Carolina. The obverse was muled with the reverses of at least two different world coins (in the case of these "mules", the obverse appeared to be in a much later die state, showing extensive wear and erosion.
Sources and/or recommended reading:
August 19, 2002 posting on [email protected]
Diameter
0.00 millimeters
Region
The United States of America
Price Guide
PCGS Population
Auctions - PCGS Graded
Auctions - NGC Graded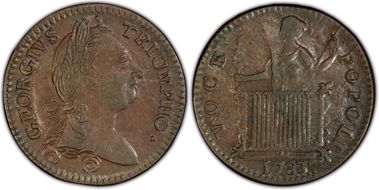 #1 MS62BN PCGS grade

Heritage 2/2005:5046, $8,050 - Heritage 312008:103, $8,625 - Goldbergs 9/2009:2219 (as PCGS MS62BN), $8,510 - Heritage 11/2012:3075, $3,818.75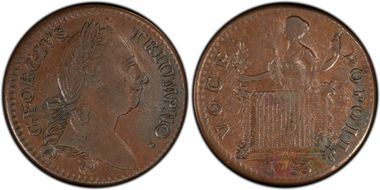 #2 AU58 PCGS grade

Ted L. Craige Collection - Stack's/Bowers 1/2013:11413, $1,645
#2 AU58 PCGS grade

American Numismatic Rarities 7/2003:80, not sold
#2 AU58 PCGS grade
#2 AU58 PCGS grade