1787 Cent Massachusetts, BN N1BN
Certification #82210296,
PCGS #302
1787 Cent Massachusetts, BN
Owner's Comments
Genuine VF Details(97-Environmental Damage) Massachusetts
Expert Comments
Ron Guth
In 1787 and 1788, the state of Massachusetts struck copper Half Cents and Cents to alleviate a shortage of small coins in circulation. Unlike most of the mints during the Confederation period, which were private mints that produced coins under contract or patent, the Massachusetts Mint was an official operation owned by the state. This unusual departure came about because the comittee investigating the Mint believed they could make a 100% profit on their investment. As it turned out, they lost more than twice their investment, which led to the Mint's closing.
The Half Cent and One Cent pieces produced in Massachusetts were well-made on good copper blanks. They were well-received by the public and they remained in circulation for years. Today, they are collected by type and/or by die variety. They are fairly plentiful as far as pre-Federal coinage goes, but fully Mint State examples are scarce and highly prized.
The 1787 Cent with arrows in the eagle's left talon are the norm for the year (the variety with the arrows in the eagle's right talon are extremely rare). At least two dozen Mint State examples are known of the former (the finest being a pair of NGC MS66BN's).
Diameter
0.00 millimeters
Region
The United States of America
Price Guide
PCGS Population
Auctions - PCGS Graded
Auctions - NGC Graded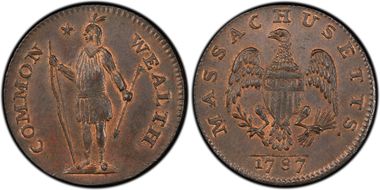 #1 MS65BN PCGS grade

Jon Hanson, sold privately on 2/2/1999 for $9,500 - Donald Groves Partrick Collection - Heritage 1/2015:5701, $25,850
#1 MS65BN PCGS grade
#1 MS65BN estimated grade

"Colonel" E.H.R. Green Collection - Jon Hanson, sold privately on 6/24/2002 for $21,000 - Donald Groves Partrick Collection - Heritage 1/2015:5699, $37,600
#1 MS65BN estimated grade

Henry C. Miller Collection - Thomas Elder 5/1920:1553 - John L. Roper, II Collection - Stack's 12/1983:222, $5,775 - Donald Groves Partrick Collection - Heritage 1/2015:5700, $22,325
#5 MS64+BN estimated grade