1793 Chain 1C S-3 AMERICA, BN AU55BN
Certification #22040897,
PCGS #35438
1793 Chain 1C S-3 AMERICA, BN
Owner's Comments
Truly a dream coin for me and many other collectors! This example boasts extremely clean surfaces and even brown color with not even a hint of porosity. I have tracked its provenance back to a Lester Merkin auction in the 1950's. The reverse is clearly uncirculated while the obverse has some flatness combined with cabinet friction. An amazing coin which was noted to be the 8th finest known of the type. A huge thanks to J&H Coins for making this happen! CAC Approved!
Designer
Attributed to Henry Voight
Diameter
27.00 millimeters
Region
The United States of America
Price Guide
PCGS Population
Auctions - PCGS Graded
Auctions - NGC Graded
Rarity and Survival Estimates

Learn More
65 or Better
502
All Grades
5
60 or Better
0
65 or Better
R-5.9
All Grades
R-9.7
60 or Better
R-10.1
65 or Better
3 / 3
All Grades
3 / 3
60 or Better
1 / 3
65 or Better
3 / 3
All Grades
3 / 3
60 or Better
1 / 3
#1 MS65 estimated grade

Joseph Zanoni Collection - sold privately by Edward Cogan in 1867 - Thomas Cleneay - S.H. & Henry Chapman 12/1890:1794 - J.F. Anger - Arba Borden - Allison W. Jackman Collection - Henry Chapman 6/1918:685 - Hillyer Ryder Collection - purchased by Wayte Raymond, 5/1945 with the rest of the Ryder Collection - sold privately to Dr. William H. Sheldon in 1947 - purchased along with other coins from the Sheldon Collection, 4/1972 - R.E. "Ted" Naftzger Collection - sold to Stanley Kesselman 3/1980 as partial payment for the Garrett S-3 - David Akers "Auction '80" 8/1980:554 - Stack's/Bowers 8/2012:11180, $747,500
#2 MS63BN estimated grade

Colin Lightbody Collection - Edward Cogan 12/1866:536 - Mortimer Livingston Mackenzie Collection - Edward Cogan 6/1869:624 - L. Bayard Smith - Arthur L. Gray - Celina Coin Company - T. James Clarke Collection, 10/1954 - R.E. Naftzger - - Abe Kosoff 4/1956:4 - Stack's - Dorothy Nelson - Stack's 2/1976:3 - Ed Hipps - Steve Ivy 11/1978:7 - Robert Bender - Heritage 8/1988:3 - Anthony Terranova - Kevin Lipton - Stack's - American Numismatic Rarities 7/2003:105, $115,000 - Stack's 7/2008:1074, $207,000 - Rare Coin Wholesalers, 1/2009 (via Chris McCawley) - Dan Holmes Collection - Goldbergs 9/2009:5, $253,000 - High Desert Collection (PCGS Set Registry)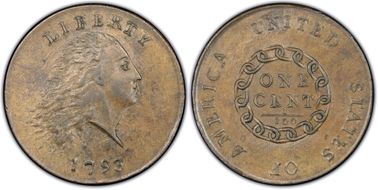 #3 MS62BN PCGS grade

Malcolm N. Jackson - United States Coin Co. 5/1913:1226, $140 - Carl Wurtzbach, 1919 - Virgil M. Brand, 2/1941) - B.G. Johnson - Dr. J. Hewitt Judd - Abe Kosoff (Illustrated History , 1962 FPL), lot 16 - Kreisberg & Schulman 5/1966:753, $6,750 - Jake Browning - Harmer, Rooke 11/1969:807A, $9,000 - RARCOA 8/1970:1602A, $8,500 - Stack's 10/1990:1590, $33,000 - Anthony Terranova, Kenneth M. Goldman, and Martin Paul - Denis W. Loring, 7/1994 - John B. MacDonald - Denis W. Loring - Walter J. Husak Collection - Heritage 2/2008:2002, $253,000
#4 AU58 PCGS grade

McLaughlin & Robinson 1/1986:264 - Stack's 1/2002:727, $43,125 - Joshua and Ally Walsh Collection - Heritage 1/2006:3013, $138,000
#5 AU55 PCGS grade

Southern Collection - American Numismatic Rarities 3/2006:52, $101,200