1795 $1 3 Leaves AU55
Certification #21648122,
PCGS #6852
Owner's Comments
Lot 2002. Ex: Heritage 8/19/2004: 6304 1795 $1 Flowing Hair, Three Leaves AU55 PCGS. B-5, BB-27, R.1. Specialists of 1795 Dollars know to look for a bar behind the uppermost hair lock, which provides ready attribution for the familiar Bolender-5 variety. Mint luster glows from the eagle's wings and outlines the legends and wreath. The right obverse field has a short pinscratch and a couple of wispy handling marks are on the portrait, but the surfaces are generally quite pleasing. Unlike most survivors of the type, there are no rim bruises, and the apricot-gray patina is consistent and original. Flowing Hair Dollars were only struck for two years, and as the 1794 is a famous rarity, type collectors are obligated to select 1795 examples for their sets. From The David Raynard Collection.(#6852) (Registry values: N4719)
Expert Comments
David Hall
The finest known example is the coin sold in a Catherine Bullowa auction in December, 2005 for $1,265,000. It was descreibed in that sale as "very choice to gem unc" and it was subsequently graded MS66 by PCGS.
Edge
Lettered: HUNDRED CENTS ONE DOLLAR OR UNIT
Diameter
40.00 millimeters
Metal
90% Silver, 10% Copper
Region
The United States of America
Price Guide
PCGS Population
Auctions - PCGS Graded
Auctions - NGC Graded
Rarity and Survival Estimates

Learn More
65 or Better
6000
All Grades
40
60 or Better
4
65 or Better
R-3.8
All Grades
R-8.7
60 or Better
R-9.8
65 or Better
4 / 4
All Grades
4 / 4
60 or Better
2 / 4 TIE
65 or Better
4 / 4
All Grades
4 / 4
60 or Better
2 / 4 TIE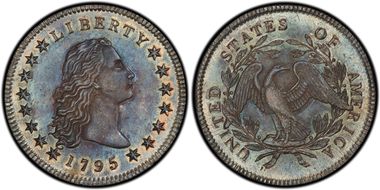 #1 MS66 PCGS grade

Catherine Bullowa Collection - Coinhunter 12/2005:393, $1,265,000 - D. Brent Pogue Collection, Part II - Stack's/Bowers & Sotheby's 9/2015:2042, $822,500 - The Type Set Collection (Oliver Jung) (PCGS Set Registry) - Bruce Morelan Collection
#2 MS65 PCGS grade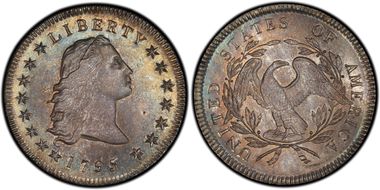 #3 MS64+ PCGS grade

Acquired in London, England in the early 1970s - Bowers & Ruddy Galleries, sold privately - Dr. Neil Chamberlain Collection - Bowers & Ruddy 2/1976:1998 - Hank Rodgers Collection - Bret Simons, sold privately in 5/1978 - Foxfire Collection (Claude E. Davis, MD), sold privately as an entire collection in 10/2004 - D. Brent Pogue Collection - Stack's/Bowers & Sotheby's 9/2015:2047, $258,500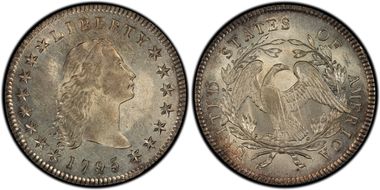 #4 MS64 PCGS grade

B-7. Peter Mougey collection - Thomas Elder 9/1910:942 - John H. Clapp - Louis Eliasberg - Bowers & Merena 4/1997:2169, $61,600 - Heritage 1/2002:7165 (as NGC MS64), $59,800 - Cardinal collection - Heritage 6/2005:9, $195,500 - Jack Lee - Heritage 1/2009:3926, $218,500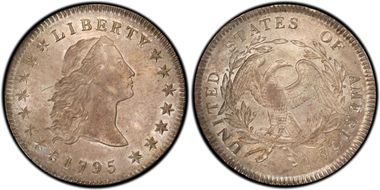 #4 MS64 PCGS grade

B-5. E.W. Ropes collection - New York Coin & Stamp Co. 2/1899 - J.M. Clapp - John H. Clapp - Louis E. Eliasberg, Sr. - Bowers & Merena 4/1997:2172 - Essex Palm - Heritage 1/2007:1023 (as NGC MS64), $115,000 - Heritage 3/2007:865, $212,750