1795 H10C LM-10 MS67
Certification #31385759,
PCGS #38594
Expert Comments
Ron Guth
The 1795 LM-10 Half Dime has a unique diagnostic feature that will allow for easy identification. It is the only variety of the year on which the last star (lowest on the right side) has a point attached directly to the tip of Liberty's bust. On all other varieties, the star is either distant from the bust tip or positioned higher on the bust.
The 1795 LM-10 Half Dime is a common variety that can be found in a wide range of grades, including Mint State.
Diameter
16.50 millimeters
Metal
89.2% Silver, 10.8% Copper
Region
The United States of America
Price Guide
PCGS Population
Auctions - PCGS Graded
Auctions - NGC Graded
Rarity and Survival Estimates

Learn More
65 or Better
350
All Grades
5
60 or Better
1
65 or Better
R-6.3
All Grades
R-9.7
60 or Better
R-10.0
65 or Better
1 / 2
All Grades
1 / 2
60 or Better
1 / 2
65 or Better
1 / 2
All Grades
1 / 2
60 or Better
1 / 2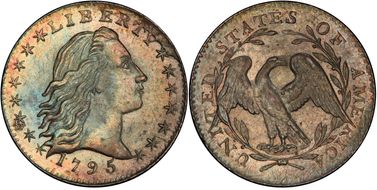 #1 MS67 PCGS grade

American Numismatic Rarities 11/2004:471, $161,000 - D. Brent Pogue Collection - Stack's/Bowers & Sotheby's 5/2015:1004, $176,250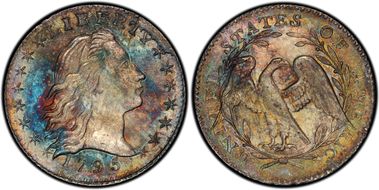 #2 MS66+ PCGS grade
#3 MS65+ PCGS grade

Heritage 6/2015:3841, $47,000
#4 MS65 PCGS grade

Heritage 4/2015:4965, $44,650
#4 MS65 PCGS grade

Heritage 9/2015:3782, not sold