1796 1C S-119 Reverse of 1797, BN AU58BN
Certification #06581574,
PCGS #35870
1796 1C S-119 Reverse of 1797, BN
Expert Comments
Ron Guth
The Sheldon 199 variety of 1796 Large Cents is a semi-scarce coin, but it is plentiful in Mint State thanks to its presence in the Nichols Find (or Hoard). In December 1797, Benjamin Goodhue, a former Representative and Senator of Massachusetts and a member of the first four U.S. Congresses, purchased approximately 1,000 Large Cents at the U.S. Mint. The hoard consisted entirely of 1796 and 1797 Large Cents, all in high grade. The hoard passed down through his daughters to the Nichols family and, in 1863, David Nichols began selling the coins to dealers. Were it not for the presence of this hoard, the S-199 would be virtually impossible to find in Mint State.
Diameter
28.00 millimeters
Region
The United States of America
Price Guide
PCGS Population
Auctions - PCGS Graded
Auctions - NGC Graded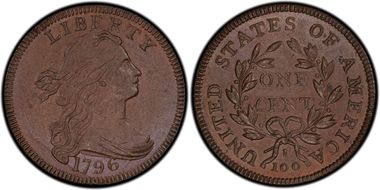 #1 MS65BN PCGS grade

Edward H. Schwartz Collection - Abe Kosoff 10/1961:273 - Charles Jay Collection - Stack's 10/1967:9 3- Herbert M. Oechsner Collection - Stack's 9/1988:56 - Jim McGuigan, sold privately in 10/1988 - Thomas D. Reynolds Collection - Goldbergs 1/2016:89, $49,350 - High Desert Collection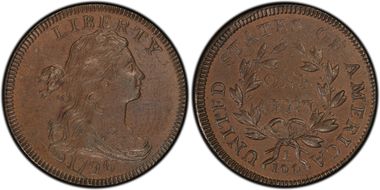 #2 MS64BN PCGS grade

"Colonel" E.H.R. Green Collection - Partnership of Eric P. Newman & B.G. Johnson (St. Louis Stamp & Coin Co.) - Eric P. Newman, who paid $100.00 - Eric P. Newman Numismatic Education Society - Heritage 11/2014:3099, $23,500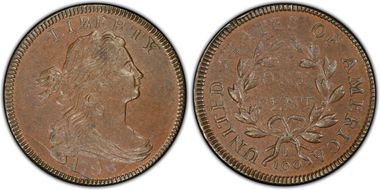 #2 MS64BN PCGS grade
#2 MS64BN PCGS grade

Heritage 8/2007:1544 - Jim O'Neal Collection - Heritage 4/2013:4119, $28,200
#2 MS64BN PCGS grade

R. E. Naftzger Collection - Werner Family Collection of 1796 Coinage - Stack's/Bowers 8/2012:11169, $32,200