1796/5 H10C MS64
Certification #29582765,
PCGS #4255
Expert Comments
Ron Guth
The 1796/5 Half Dime is an intriguing coin that raises some interesting questions. Usually, overdates occur on leftover dies from previous years, but they are usually of the same design type. So, was the placement of the 5 on this Draped Bust obverse simply a mistake or was it the intention, at some point, to strike a 1795-dated Draped Bust Half Dime? The 15 stars on the obverse may offer a clue because the the 15th state (Kentucky) was admitted to the Union in 1792, while the 16th state (Tennessee) was not admitted until 1796 (after a 1795-dated die with 15 stars would have been created).
The 1796/5 Half Dime is rarer than the 1796 "normal" date (LIKERTY) variety. At least ten different Uncirculated examples are known, the best being the Garrett-Pogue PCGS MS66.
Diameter
16.50 millimeters
Metal
89.2% Silver, 10.8% Copper
Region
The United States of America
Price Guide
PCGS Population
Auctions - PCGS Graded
Auctions - NGC Graded
Rarity and Survival Estimates

Learn More
65 or Better
40
All Grades
20
60 or Better
1
65 or Better
R-8.7
All Grades
R-9.1
60 or Better
R-10.0
65 or Better
1 / 5 TIE
All Grades
2 / 5 TIE
60 or Better
1 / 5
65 or Better
3 / 12 TIE
All Grades
6 / 12 TIE
60 or Better
1 / 12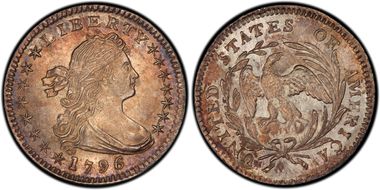 #1 MS66 PCGS grade

Lorin G. Parmelee Collection - New York Coin & Stamp 6/1890:728 - T. Harrison Garrett Collection - Robert Garrett Collection - John Work Garrett Collection - Johns Hopkins University Collection - Bowers & Ruddy 11/1979:229 (misattributed as a V-1), $60,000 - Dr. Herb Ketterman Colklection - Jimmy Hayes Collection - Stack's 10/1985:5 - John Whitney Walter Collection - Stack's 5/1999:1761, $71,875 - Essex Palm Collection - Heritage 1/2007:842, $172,500 - Madison Collection - Heritage 1/2008:2743, $345,000 - D. Brent Pogue Collection - Stack's/Bowers & Sotheby's 5/2015:1007, $188,000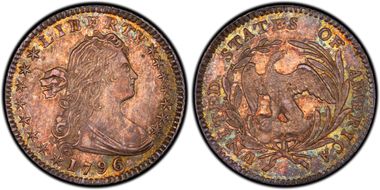 #2 MS64+ PCGS grade

E.S. Norris Collection - S.H. & H. Chapman 5/1894 - John M. Clapp Collection - John H. Clapp Collection, sold intact in 1942 - Louis E. Eliasberg, Sr. Collection - Bowers & Merena 5/1996:895, $28,600 - Stack's/Bowers 8/2011:7249, $$$ - Stacks/Bowers 3/2012:4053, not sold - Stack's/Bowers 8/2012:11283, $74,750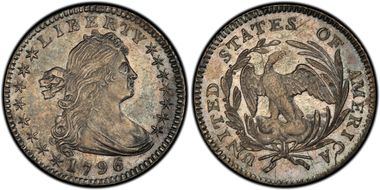 #3 MS64 PCGS grade

James A. "Jimmy" Hayes Collection, sold privately via Stack's in 8/1985 - John Whitney Walter Collection - Stack's 5/1999:1762, $21,850 - Simpson Collection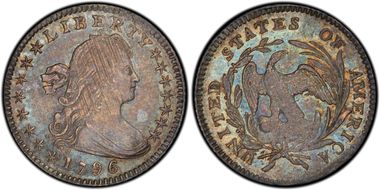 #4 MS63 PCGS grade
#4 MS63 PCGS grade