1796 H10C LIKERTY MS63
Certification #25304183,
PCGS #4254
Expert Comments
Ron Guth
The 1796 Half Dime is the first year of the Draped Bust design type. It is a scarce date that it is at least as rare, if not more rare, than the 1794. Very few Mint State examples are known, the most notable of which is a single MS67 example that was first certified by PCGS in late 1989. The unusual "LIKERTY" variety was not a spelling error -- the "K" is actually a broken "B." The only other variety of this year is an overdate: 1796 over 5.

Varieties (2):
Valentine 1 - "LIKERTY" - Scarce
Valentine 2 - 1796/5 - Very Rare
Sources and/or recommended reading:
"Federal Half Dimes 1792-1837" by Russell J. Logan and John W. McCloskey
Diameter
16.50 millimeters
Metal
89.2% Silver, 10.8% Copper
Region
The United States of America
Price Guide
PCGS Population
Auctions - PCGS Graded
Auctions - NGC Graded
Rarity and Survival Estimates

Learn More
65 or Better
500
All Grades
35
60 or Better
2
65 or Better
R-6.0
All Grades
R-8.8
60 or Better
R-9.9
65 or Better
4 / 5 TIE
All Grades
5 / 5
60 or Better
2 / 5
65 or Better
9 / 12 TIE
All Grades
10 / 12
60 or Better
2 / 12 TIE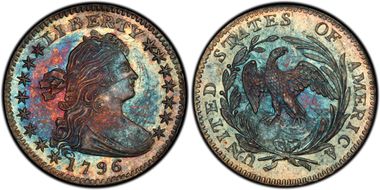 #1 MS67+ PCGS grade

Texas Collection - Christies 5/1989:98, $198,000 - Knoxville Collection - Jay Parrino (The Mint) - D. Brent Pogue Collection - Stack's/Bowers & Sotheby's 5/2015:1005, $411,250 - JRCSLM32 Collection (PCGS Set Registry)
#2 MS67 PCGS grade
#3 MS66 estimated grade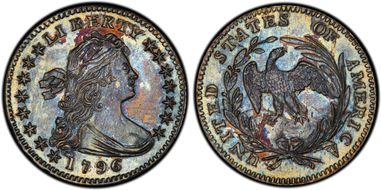 #4 MS65 PCGS grade

R.L. Miles Collection - Stack's 5/1969:390, $2,700 - Lelan Rogers Collection, sold privately in 7/1995 - Foxfire Collection (Claude E. Davis, MD), sold privately (as an entire collection) on 10/5/2004 - D. Brent Pogue Colllection - Stack's/Bowers & Sotheby's 5/2015:1006, $94,000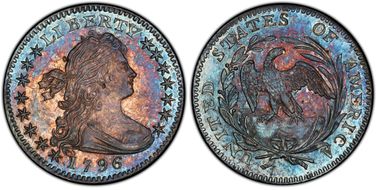 #5 MS64 PCGS grade