1796 H10C LM-1 LIKERTY MS67+
Certification #31385758,
PCGS #38596
Expert Comments
Ron Guth
The LM-1 variety of the 1796 Half Dime is known as the LIKERTY variety because of a broken "B" punch in LIBERTY. This is a scarce variety primarily because of the low mintage for the year. Despite its scarcity, more than a dozen examples are known in Mint State. The finest example known to us is the remarkable PCGS MS67+ (illustrated above), formerly in the D. Brent Pogue Collection. When that coin sold in 2015, the price of $412,500 was more than double the previous record for the variety -- set by this very same coin.
Diameter
16.50 millimeters
Metal
89.2% Silver, 10.8% Copper
Region
The United States of America
Price Guide
PCGS Population
Auctions - PCGS Graded
Auctions - NGC Graded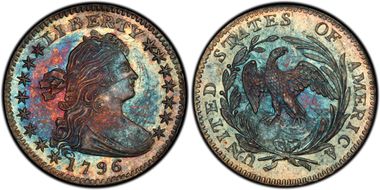 #1 MS67+ PCGS grade

Texas Collection - Christies 5/1989:98, $198,000 - Knoxville Collection - Jay Parrino (The Mint) - D. Brent Pogue Collection - Stack's/Bowers/Sotheby's 5/2015:1005, $411,250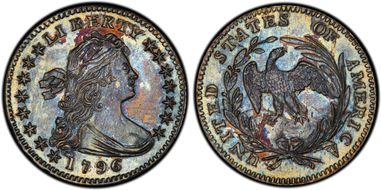 #2 MS65 PCGS grade

R.L. Miles Collection - Stack's 5/1969:390, $2,700 - Lelan Rogers Collection, sold privately in 7/1995 - Foxfire Collection (Claude E. Davis, MD), sold privately on 10/5/2004 - D. Brent Pogue Colllection - Stack's/Bowers & Sotheby's 5/2015:1006, $94,000
#2 MS65 estimated grade

New Netherlands, sold privately in 3/1947 - Harold Bareford Collection - Stack's 10/1981:29, $28,000 - John Whitney Walter Collection - Stack's 5/1999:1759, $32,200
#3 MS64 PCGS grade
#3 MS64 PCGS grade