1796 50C Overton 101 15 Stars VF30
Certification #06994077,
PCGS #39261
1796 50C Overton 101 15 Stars
Owner's Comments
O-101, Rarity 5. From the Heritage, Summer 2008 FUN Auction. The design elements display excellent definition for the grade designation, slightly more so on the obverse. Liberty's hair strands in the middle and lower portions of the portrait are sharp, as is the dentilation on both sides, the sole exception being that on the upper obverse. Strong definition is also noted on about one-half of the eagle's wing plumage, along with that on the tail. Particularly noteworthy is the clarity in most of the diagnostic semi-circular crack above Liberty's shoulder; this fine crack is usually visible only on higher-end VF and better examples. Soft champagne-gold patina accented with whispers of sky-blue and lavender covers both sides, and traces of luster are visible in some of the motif interstices, especially those of Liberty's hair and the eagle's feathers. The surfaces are relatively clean for a coin having seen light to moderate circulation. A couple of inoffensive obverse pinscratches are only mentioned for complete accuracy, and two minute marks near the rim above star 7, one between 9 and 6 in the date, and another to the top right of the 2 in the fraction may help in identifying the coin for future catalogers and researchers.
Designer
Robert Scot/John Eckstein
Edge
Lettered: FIFTY CENTS OR HALF A DOLLAR
Diameter
32.50 millimeters
Metal
90% Silver, 10% Copper
Region
The United States of America
Price Guide
PCGS Population
Auctions - PCGS Graded
Auctions - NGC Graded
#1 MS66 estimated grade
#2 MS64 estimated grade
#3 MS63 PCGS grade

J.M. Clapp - John H. Clapp - Clapp Estate, 1942 - Louis E. Eliasberg, Sr. Collection - Bowers & Merena 4/1997:1673, $110,000 - Heritage 8/2006:5222, $310,500 - Stack's 7/2009:523, $270,000
#4 MS63 estimated grade

Norman Stack's type set - Superior 8/1991:501, $198,000 - John Whitney Collection - Stack's 5/1999:1776, $120,750 - American Numismatic Rarities 9/2005:388, $310,500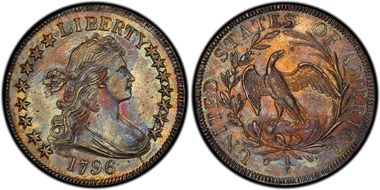 #5 MS62 PCGS grade

Bowers & Merena 3/1989:1990 - American Numismatic Rarities 8/2004:418, $189,750 - Southwest Collection - Heritage 2/2008:528, $373,750 - D. Brent Pogue Collection - Stack's/Bowers & Sotheby's 5/2015:1101