1797 H10C 16 Stars MS62+
Certification #29582769,
PCGS #4259
Expert Comments
Ron Guth
In 1797, the U.S. Mint made Half Dimes with differing numbers of stars on the obverse. Some were made with thirteen stars, some with fifteen, and others with sixteen. The reason for this numerical difference was because of the original practice to include a star for each state admitted to the Union. The next state after the 13 originals was Vermont, then Kentucky in 1792, and Tennessee in 1796. Clearly, there were timing issues. For instance, if a 1797 die were made in 1796 in anticipation of the next year's production, it may have had either 15 or 16 stars, depending on whether it was made before or after Tennessee was admitted. However, either way, Mint employees soon learned that the stars were becoming awfully crowded on the coins, particularly on the small Half Dimes, and they eventually reverted back to 13 stars -- and kept it that way (with a few minor exceptions).
The 16 Stars variety is approximately two to three times as scarce as the 13 stars, but it is nowhere near as common as the 15 Stars. Over a dozen Mint State examples are known, the finest of which are a pair of PCGS MS66s.
In general, the obverse of the 1797 16 Stars Half Dime shows a good strike, though sometimes the central details can be weak. Higher grade examples of this variety show stronger reverse detailing than on the 15 Stars variety. Adjustment marks are seen far less frequently on the Half Dimes than they are on the larger denominations, so this is seldom an issue on this date.
Diameter
16.50 millimeters
Metal
89.2% Silver, 10.8% Copper
Region
The United States of America
Price Guide
PCGS Population
Auctions - PCGS Graded
Auctions - NGC Graded
Rarity and Survival Estimates

Learn More
65 or Better
300
All Grades
20
60 or Better
6
65 or Better
R-6.4
All Grades
R-9.1
60 or Better
R-9.7
65 or Better
3 / 5
All Grades
2 / 5 TIE
60 or Better
3 / 5 TIE
65 or Better
6 / 12 TIE
All Grades
6 / 12 TIE
60 or Better
6 / 12 TIE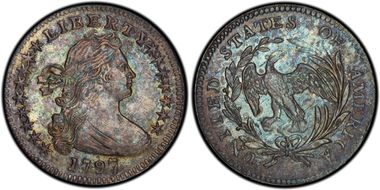 #1 MS66 PCGS grade

Lawrence R. Stack Collection, sold privately - D. Brent Pogue Collection - Stack's/Bowers & Sotheby's 5/2015:1009, $129,250 - Heritage 11/2016:5178, $123,375
#1 MS66 PCGS grade

Oliver Jung Collection - Heritage 8/2014:5549, $141,000
#3 MS65 PCGS grade

American Numismatic Rarities 7/2004:26, $109,250
#3 MS65 PCGS grade
#5 MS65 estimated grade

LM-2

Louis E. Eliasberg, Sr. Collection - Bowers & Merena 5/1996:899 - American Numismatic Rarities 1/2005:322, $115,000