1798 1C 2nd Hair Style, BN N1BN
Certification #37645098,
PCGS #1434
1798 1C 2nd Hair Style, BN
Expert Comments
Ron Guth
1798 Large Cents are known with "First" and "Second" Hairstyles. These are misnomers because the hairstyles are actually quite similar and differ only by the addition of a conspicuous haircurl just left of and below the ear on the Second Hairstyle. The new version, with the obvious curl, is also known as the "Head of 1799" because researchers believe all such varieties were struck in 1799 even though they were dated 1798. In particular, the 1799/8 Large Cents are all of the Second Hairstyle.
Finding Uncirculated examples of the 1798 Second Hairstyle is quite difficult. Even with the dispersal of the great collections of Naftzger, Husak, Holmes, and the Cardinal Educational Foundation, collectors have few options. PCGS reports less than two dozen MS Brown examples, ranging in grade from a low of MS61BN to a high of MS65BN, with most examples appeaing in MS63BN. Red-Brown examples are exceedingly rare, and may exist only in one specimen (a PCGS MS65RB). No Red examples are known of the 1798 Second Hairstyle.
Diameter
28.00 millimeters
Region
The United States of America
Price Guide
PCGS Population
Auctions - PCGS Graded
Auctions - NGC Graded
Rarity and Survival Estimates

Learn More
65 or Better
5000
All Grades
5
60 or Better
1
65 or Better
R-4.0
All Grades
R-9.7
60 or Better
R-10.0
65 or Better
36 / 40 TIE
All Grades
16 / 40 TIE
60 or Better
1 / 40 TIE
65 or Better
36 / 40 TIE
All Grades
16 / 40 TIE
60 or Better
1 / 40 TIE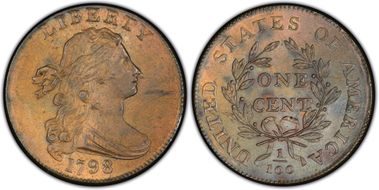 #1 MS65BN PCGS grade

Ex Pierre Edouard LeGras (Paris) - Edouard Frossard 11/1882:184 - T. Harrison Garrett - Robert Garrett 1919 - John Work Garrett - Johns Hopkins University - Bowers & Ruddy 11/1979:91, $18,000 - Stanley Kesselman 12/1980 - R. E. Naftzger, Jr. - Goldbergs 9/2008:178 (as PCGS MS65BN), $207,000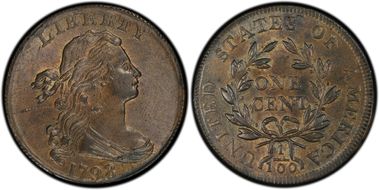 #2 MS64+BN PCGS grade
#2 MS64+BN PCGS grade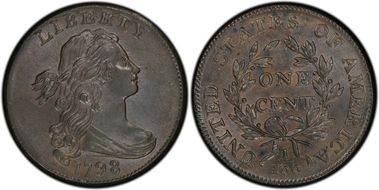 #4 MS64BN PCGS grade
#4 MS64BN PCGS grade