1802 H10C XF45
Certification #29582773,
PCGS #4268
Expert Comments
Ron Guth
The 1802 Half Dime is one of the classic rarities in United States coins thanks to a small mintage and a low survival rate. Breen (1988) claims the date was first "recorded" in 1863, when three examples were known, but according to David Davis, the first auction appearance of an 1802 Half Dime was in Edward Cogan's December 1859 sale. In 1883, Harold P. Newlin enumerated 16 examples, but according to Logan & McCloskey (1998, p. 9), he overlooked at least a few auction appearances. In 1935, James MacAllister claimed to know of 35 examples (Breen, p. 279). The definitive listing of 1802 Half Dimes appears in Logan & McCloskey (pp. 9-38), where David J. Davis chronicled 167 sales and appearances over a 140 year time period. By combining duplicate appearances and matching against Newlin's and Breen's lists, Davis confirmed a population of 35 examples. The majority of the known examples are in low grade. The finest example known is the About Uncirculated Garrett example, though there are some close competitors. No true Uncirculated examples are known.
Sources and/or recommended reading:
Breen, W. (1988). Walter Breen's encyclopedia of U.S. and colonial coins. New York, NY:Doubleday.
Logan, R.J. & McCloskey, J. (1998). Federal Half Dimes 1792-1837. Manchester, MI:John Reich Collectors Society.
Newlin, H.P. (1883). A classification of the early half dimes of the United States. Philadelphia, PA.
Diameter
16.50 millimeters
Metal
89.2% Silver, 10.8% Copper
Region
The United States of America
Price Guide
PCGS Population
Auctions - PCGS Graded
Auctions - NGC Graded
Rarity and Survival Estimates

Learn More
65 or Better
35
All Grades
0
60 or Better
0
65 or Better
R-8.8
All Grades
R-10.1
60 or Better
R-10.1
65 or Better
2 / 7
All Grades
1 / 7
60 or Better
1 / 7
65 or Better
2 / 12
All Grades
1 / 12
60 or Better
1 / 12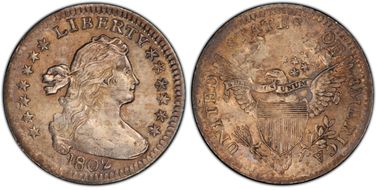 #1 AU55 PCGS grade

Amato 101

"St. Jude" Collection
#1 AU55 PCGS grade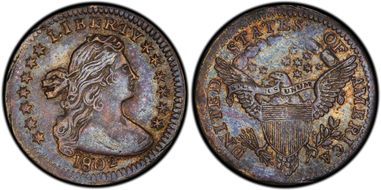 #3 AU50 PCGS grade

"Advanced Virginia Collection" (per the Pogue catalog) - John Feigenbaum and Jim McGuigan, sold privately in 6/1999 - Jonathan Kern, sold privately - Steve Glenn Collection - Heritage 4/2006:1868, $299,000 - Joseph C. Thomas Collection - Heritage 4/2009:2186, $195,500 - Eugene H. Gardner Collection - Heritage 6/2014:30180, $352,500 - D. Brent Pogue Collection - Stack's/Bowers/Sotheby's 5/2015:1013, $305,500
#4 XF45 PCGS grade

George Hale, 1945 - Dr. Angus Black, 1970 - Reed Hawn, 1973 - Newport Collection, 1975 - Bibler - private collection - Norman Pullen - Larry Hanks - East Coast Collection - Vintage Auctions 8/1989:103 - Bob R. Simpson Collection
#4 XF45 estimated grade

W. Elliot Woodward Sale 10/1884:1022, $360 - James B. Wilson Collection - Thomas Elder 10/1908:784, $715 - H.O. Granberg Collection - William Cutler Atwater Collection - B. Max Mehl 6/1946:1126, $840 - anonymous New Jersey collector until 1991 - Heritage 1/1998:6631, not sold - Heritage 8/2000:6815, not sold - Heritage 6/2001:7960, $64,400 - Heritage 8/2011:7065, $212,750