1805 10C 4 Berries N1
Certification #34742297,
PCGS #4477
Expert Comments
Ron Guth
The 1805 Dime has a mintage of 120,780 pieces, the second highest of the Draped Bust series, but only two varieties comprise the entire mintage. JR-1 has 5 Berries on the reverse and JR-2 has 4 Berries on the reverse. Both are of roughly equal rarity, though the 4 Berries reverse is slightly more common.
The finest 1805 4 Berries reverse Dime is the amazing PCGS MS67 from the Knoxville Collection.
Diameter
19.80 millimeters
Metal
89.2% Silver, 10.8% Copper
Region
The United States of America
Price Guide
PCGS Population
Auctions - PCGS Graded
Auctions - NGC Graded
Rarity and Survival Estimates

Learn More
65 or Better
1000
All Grades
200
60 or Better
28
65 or Better
R-5.0
All Grades
R-7.0
60 or Better
R-8.9
65 or Better
12 / 13 TIE
All Grades
9 / 13 TIE
60 or Better
6 / 13
65 or Better
15 / 16 TIE
All Grades
12 / 16 TIE
60 or Better
8 / 16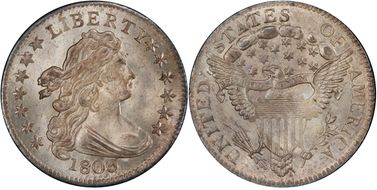 #1 MS67 PCGS grade

Knoxville Collection - Oliver Jung Collection - American Numismatic Rarities 7/2004:34, $149,500 - Bob R. Simpson Collection - Oliver Jung Collection - Heritage 8/2004:5560, $188,000 - The Type Set Collection (Oliver Jung) (PCGS Set Registry)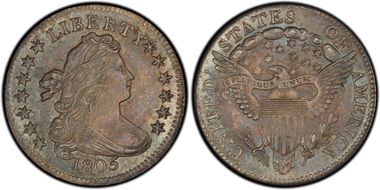 #1 MS67 PCGS grade

Barney Bluestone 1/1945:349, $27 - John Jay Pittman Collection, Part I - David Akers 10/1997:542, $82,500 - Paul Nugget, sold privately on 4/26/2002 - D. Brent Pogue Collection, Part I - Stack's/Bowers & Sotheby's 5/2015:1048, $105,750 - High Desert Collection (PCGS Set Registry)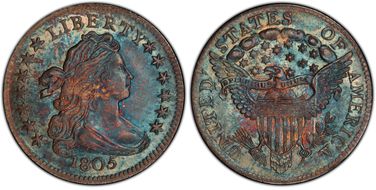 #1 MS67 PCGS grade

Superior 5/1990:3582, $121,000 - Franklin Dean Collection - Superior 1/2006:344, $88,550 - Goldbergs 9/2006:1474, $115,000 - Goldbergs 2/2008:1986, $132,250 - Eugene H. Gardner Collection, Part III - Heritage 5/2015:98208, $91,063
#1 MS67 PCGS grade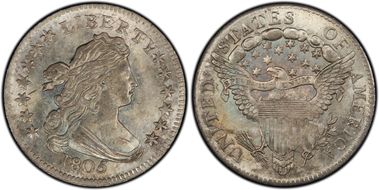 #5 MS66+ PCGS grade

Douglas C. Kaselitz Collection - Stack's/Bowers 7/2015:5118, $70,500 - JRCSLM32 (PCGS Set Registry)