1805 10C 5 Berries AU55
Certification #03843939,
PCGS #4478
Expert Comments
Ron Guth
The 1805 Dime has a mintage of 120,780 pieces, the second highest of the Draped Bust series, but only two varieties comprise the entire mintage. JR-1 has 5 Berries on the reverse and JR-2 has 4 Berries on the reverse. Both are of roughly equal rarity, though the 5 Berries reverse is slightly scarcer.
The finest 1805 5 Berries reverse Dime is the Eliasberg coin, sold as a raw MS65 in 1996, then as a PCGS MS65 in early 1997. However, that coin has fallen off the PCGS Population Report, where an MS64 now appears. Could these be the same coin? Either way, Mint State examples of this Major Variety are exceedingly rare.
Diameter
19.80 millimeters
Metal
90% Silver, 10% Copper
Region
The United States of America
Price Guide
PCGS Population
Auctions - PCGS Graded
Auctions - NGC Graded
Rarity and Survival Estimates

Learn More
65 or Better
75
All Grades
8
60 or Better
0
65 or Better
R-8.2
All Grades
R-9.6
60 or Better
R-10.1
65 or Better
4 / 13 TIE
All Grades
2 / 13 TIE
60 or Better
1 / 13
65 or Better
5 / 16 TIE
All Grades
3 / 16 TIE
60 or Better
1 / 16
#1 MS65 PCGS estimated grade

Louis E. Eliasberg, Sr. Collection - Bowers & Merena 5/22/1996:1053 (as Raw MS65), $23,100 - Heritage 3/1997:5890, $20,700
#2 MS64 PCGS grade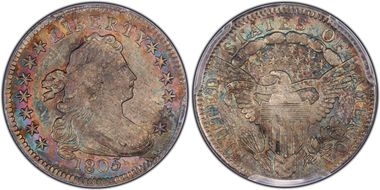 #3 MS62 PCGS grade
#3 MS62 PCGS grade
#5 MS61 PCGS grade