1807 50C Large Stars 50/20 AU55
Certification #10839522,
PCGS #6086
1807 50C Large Stars 50/20
Owner's Comments
O-112, Rarity 1. CAC Approved. From Heritage's 2009 March Baltimore, MD Signature US Coin Auction #1126, Lot 1934. Golden-brown and ocean-blue adorn the reverse margin, while the obverse is comprehensively toned in gunmetal-blue and cream-gray. A slender strike-through (as made) reaches the S in PLURIBUS, but actual marks are minor and hard to locate.
Expert Comments
Ron Guth
This is one of the great "oops" varieties of the early 1800s. On this reverse, the engraver started punching the denomination into the die, but made the mistake of picking up a punch for a 2 instead of a 5. Once the error was noticed, the engraver punched a 5 over the 2, but traces of the 2 remained under the 5. The undertype can be seen even on coins in grades as low as Good.
The 50/20 variety is slightly scarce, but can be found in most circulated and even Mint State grades. The PCGS CoinFacts Condition Census includes coins ranging from MS64 to MS66.
Edge
Lettered: FIFTY CENTS OR HALF A DOLLAR
Diameter
32.50 millimeters
Metal
89.2% Silver, 10.8% Copper
Region
The United States of America
Price Guide
PCGS Population
Auctions - PCGS Graded
Auctions - NGC Graded
Rarity and Survival Estimates

Learn More
65 or Better
3000
All Grades
40
60 or Better
1
65 or Better
R-4.4
All Grades
R-8.7
60 or Better
R-10.0
65 or Better
46 / 72 TIE
All Grades
29 / 72 TIE
60 or Better
1 / 72 TIE
65 or Better
49 / 78 TIE
All Grades
30 / 78 TIE
60 or Better
1 / 78 TIE
#1 MS66 estimated grade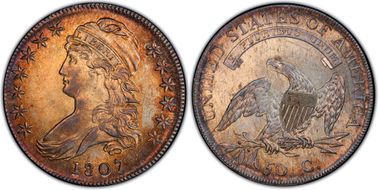 #2 MS65 PCGS grade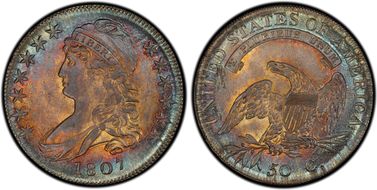 #2 MS65 PCGS grade

Possibly acquired by Cornelius Vermeule or Cornelius Vermeule Jr., before 1950 - Cornelius Vermeule III Collection -
Stack's 11/2001):228, $41,400 (this sale was originally planned for 9/2011 in New York, but was cancelled because of the attack on the World Trade Center) - D. Brent Pogue Collection
#2 MS65 PCGS grade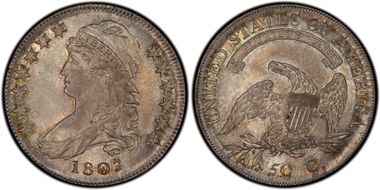 #5 MS64 PCGS grade

Louis E. Eliasberg, Sr. Collection - Bowers & Merena 4/1997:1699, $6,600 - Dr. Charles Link Collection