1812/1 50C Small 8 F12
Certification #26278196,
PCGS #6101
Expert Comments
Ron Guth
The 1812/1 Half Dollar is one of several overdates in the Capped Bust Half Dollar series. Two 1812/1 overdates are known: one with a Large 8 and another with a Small 8. Both were created when leftover 1811 dies were overdated in 1812 instead of simply discarding the old dies. The 1812/1 Large 8 is considerably more rare than the Small 8, and the Small 8 commands a small premium over the regular 1812 type. Only one die pair (Overton 102) is known of the 1812/1 Small 8 variety.
In Mint State, the 1812/1 Small 8 is quite scarce. A handful of MS63 and MS64 examples are known. Only one Gem example is known.
Edge
Lettered: FIFTY CENTS OR HALF A DOLLAR
Diameter
32.50 millimeters
Metal
89.2% Silver, 10.8% Copper
Region
The United States of America
Price Guide
PCGS Population
Auctions - PCGS Graded
Auctions - NGC Graded
Rarity and Survival Estimates

Learn More
65 or Better
1250
All Grades
20
60 or Better
2
65 or Better
R-4.9
All Grades
R-9.1
60 or Better
R-9.9
65 or Better
34 / 72 TIE
All Grades
15 / 72 TIE
60 or Better
10 / 72 TIE
65 or Better
36 / 78 TIE
All Grades
16 / 78 TIE
60 or Better
10 / 78 TIE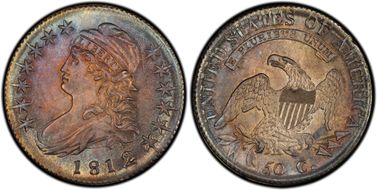 #1 MS65 PCGS grade

Overton 102

Phil Kaufman Collection - Heritage, sold privately in 7/2008 - Joseph Thomas Collection - Heritage 4/2009:2410, $43,125 - Larry Hanks (as agent?) - D. Brent Pogue Collection - Stack's/Bowers & Sotheby's 9/2015:2012, $70,500 - Dr. Charles Link Collection
#1 MS65 estimated grade
#1 MS65 estimated grade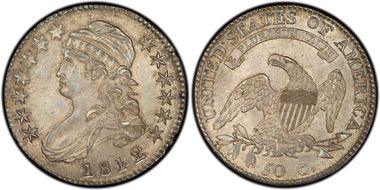 #4 MS64 PCGS grade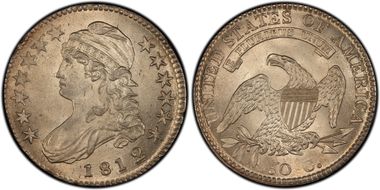 #4 MS64 PCGS grade