1815/2 50C Overton 101a AU58
Certification #50152171,
PCGS #39492
Owner's Comments
O-101A, Rarity 3. From Stack's Orlando Auction, 1/05/2009 - Medium gray and lilac toning over lustrous surfaces, with some hints of blue around the border. A lovely example, indeed one of the finest graded by PCGS, of this key issue. Among the different years in the Capped Bust series, continuously from 1807 to 1836, except for 1816 (when none were minted), the 1815 is far and away the scarcest. All are from a single die, overdated as 1815/2.
Edge
Lettered: FIFTY CENTS OR HALF A DOLLAR
Diameter
32.50 millimeters
Metal
89.2% Silver, 10.8% Copper
Region
The United States of America
Price Guide
PCGS Population
Auctions - PCGS Graded
Auctions - NGC Graded
#1 MS65 estimated grade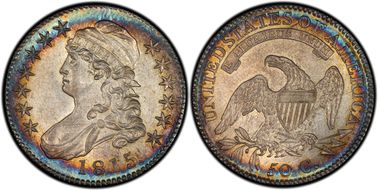 #2 MS64+ PCGS grade

"Colonel" E.H.R. Green - Green Estate - Partnership of Eric P. Newman & B.G. Johnson (St. Louis Stamp & Coin Co.) - Eric P. Newman, who paid $50.00 - Eric P. Newman Numismatic Education Society - Heritage 11/2013:33446, $117,500
#3 MS63 estimated grade
#4 MS62 estimated grade
#4 MS62 estimated grade