1823 50C Patched 3 XF45
Certification #16228987,
PCGS #6133
Expert Comments
Ron Guth
The so-called "Patched 3" is one of the more interesting varieties among Capped Bust Half Dollars. The variety is actually a die state of Overton 101, which started out as a fairly normal 3, although the top and the bottom halves of the 3 are barely connected. After a certain number of the 1823 O-101 Half Dollars were struck, an engraver took the obverse die and attempted to repair the 3, though the fix came out worse in appearance than the original. The 1823
Patched 3" is known as Overton 101a and, though it is a late state of O-101, it is collected as a completely different variety (this is akin to the 1807 O-111b "Bearded Goddess, which is also a late state of the O-111 dies).
The "Patched 3" Half Dollar is a common variety and can be found in high grade. At least two dozen Mint State examples are known, with the best topping out at MS66.
Edge
Lettered: FIFTY CENTS OR HALF A DOLLAR
Diameter
32.50 millimeters
Metal
89.2% Silver, 10.8% Copper
Region
The United States of America
Price Guide
PCGS Population
Auctions - PCGS Graded
Auctions - NGC Graded
Rarity and Survival Estimates

Learn More
65 or Better
600
All Grades
30
60 or Better
1
65 or Better
R-5.8
All Grades
R-8.9
60 or Better
R-10.0
65 or Better
12 / 72 TIE
All Grades
22 / 72 TIE
60 or Better
1 / 72 TIE
65 or Better
13 / 78 TIE
All Grades
23 / 78 TIE
60 or Better
1 / 78 TIE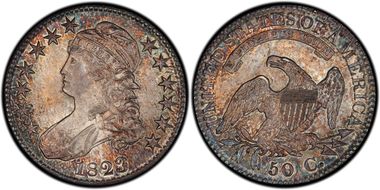 #1 MS65+ PCGS grade

Superior 3/2001:280 - Bowers & Merena 7/2003:1470, $17,250 - Stuart Levine - D. Brent Pogue Collection - Stack's/Bowers & Sotheby's 2/2016:3048, $19,975 - Dr. Charles Link Collection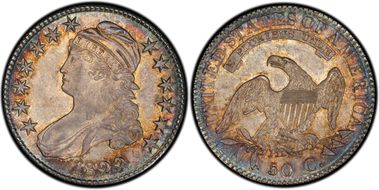 #2 MS65 PCGS grade

Louis E. Eliasberg, Sr. Collection - Bowers & Merena 4/1997:1792, $9,900 - Phil Kaufman Collection - Joseph C. Thomas Collection - Heritage 4/2009:2430, $40,250 - Larry Hanks - D. Brent Pogue Collection - Stack's/Bowers & Sotheby's 2/2016:3049, $28,200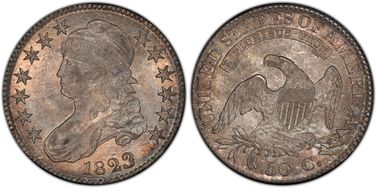 #2 MS65 PCGS grade

Virginia Cabinet - Heritage 4/2015:5078, $29,375 - Chicago Collection (PCGS Set Registry)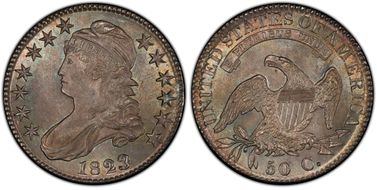 #2 MS65 PCGS grade

Coins That Look Gem Collection
#2 MS65 PCGS grade