1824/2 10C MS65
Certification #29614761,
PCGS #4502
Owner's Comments
JR-1. Ex Eliasberg, CAC Fabulous coin- This is my personal favorite date and the finest 1824 that I every saw of this semi key date. Very under-rated date. IMHO - this is a very special coin.
Expert Comments
Ron Guth
As with the 1823 Dimes, all 1824 Dimes are overdated from old, unused 1822 dies. Mint employees utilized one obverse die and two different reverse dies to strike all of the 1824 Dimes. On the more common JR-1 reverse, the 1 of 10C has a flat top and a missing serif at bottom right. The more rare JR-2 variety has a curved top and perfect serifs on the 1.
Mint State 1824 Dimes are very scarce, but they often come nice. Fully struck examples are very rare, though they do exist. The best examples top out at MS66.
Diameter
19.00 millimeters
Metal
89.2% Silver, 10.8% Copper
Region
The United States of America
Price Guide
PCGS Population
Auctions - PCGS Graded
Auctions - NGC Graded
Rarity and Survival Estimates

Learn More
65 or Better
225
All Grades
25
60 or Better
2
65 or Better
R-6.7
All Grades
R-9.0
60 or Better
R-9.9
65 or Better
8 / 17
All Grades
10 / 17
60 or Better
5 / 17 TIE
65 or Better
10 / 35
All Grades
13 / 35 TIE
60 or Better
6 / 35 TIE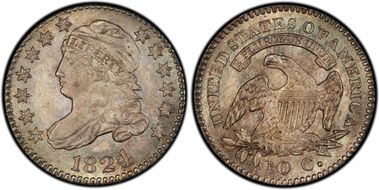 #1 MS66 PCGS grade

JR-1
Joseph O'Connor, sold privately in 2/2002 - D. Brent Pogue Collection - Stack's/Bowers 2/2016:3027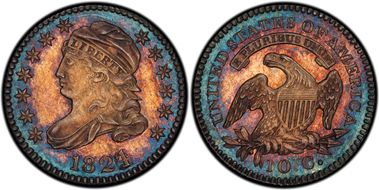 #1 MS66 PCGS grade

Thomas Cleneay Collection - S.H. & Henry Chapman 11/1890:1495 - Adolphe Menjou Collection - Numismatic Gallery 6/1950:174 - Harold S. Bareford Collection - Stack's 10/1981:166, $16,000 - Allen F. Lovejoy Collection - Stack's 10/1990:66 - Larry Hanks, sold privately in 11/2005 - D. Brent Pogue Collection - Stack's/Bowers 2/2016:3026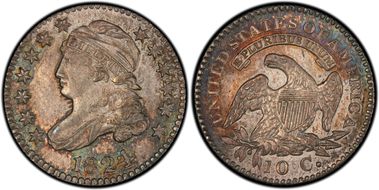 #3 MS65 PCGS grade

Louis E. Eliasberg, Sr. Collection - Bowers & Merena 5/1996:1073, S10,560 - EastonCollection
#3 MS65 estimated grade

Superior 5/1999:2001 - Eugene H. Gardner Collection - Heritage 10/2014:98231, $70,500
#5 MS64 PCGS grade