1831 10C MS66
Certification #03719446,
PCGS #4520
Owner's Comments
JR-5, CAC. Ex. Flanagan. Magnificent example that I feel is undergraded by a point of two. This example is a late die state that shows off the reverse cud above the "UNI". This is the finest example that shows off the reverse cud.
Expert Comments
Ron Guth
The 1831 Dime has the third-largest mintage of any of the Small Diameter Dimes, making it a target for type collectors looking for good value. Mint State examples are plentiful, with MS63 being the most oft-seen grade. A small number of superb example exist, including a monster MS68 that was once part of the Pogue Family collection and which sold for a record $94,000 in 2016.
Included in the total mintage are six different die varieties. Fortunately, none of the varieties is particularly rare, making it possible to put together a complete set without too much difficulty.
Diameter
18.50 millimeters
Metal
89.2% Silver, 10.8% Copper
Region
The United States of America
Price Guide
PCGS Population
Auctions - PCGS Graded
Auctions - NGC Graded
Rarity and Survival Estimates

Learn More
65 or Better
1500
All Grades
250
60 or Better
25
65 or Better
R-4.8
All Grades
R-6.6
60 or Better
R-9.0
65 or Better
14 / 18 TIE
All Grades
14 / 18 TIE
60 or Better
14 / 18 TIE
65 or Better
31 / 35 TIE
All Grades
30 / 35 TIE
60 or Better
29 / 35 TIE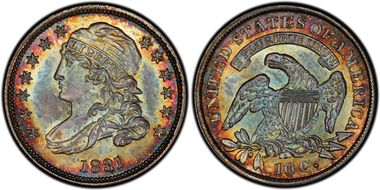 #1 MS68 PCGS grade

James W. Lull Collection - Bowers & Merena 1/2005:668, $37,950 - Richard Burdick, sold privately in 9/2006 - D. Brent Pogue Collection - Stack's/Bowers & Sotheby's 2/2016:3038, $94,000 - Dr. Charles Link Collection
#2 MS67+ PCGS grade
#3 MS67 PCGS grade
#3 MS67 PCGS grade
#3 MS67 PCGS grade