1831 H10C MS68
Certification #06666541,
PCGS #4278
Expert Comments
Ron Guth
The 1831 Half Dime has a hefty mintage of over 1.2 million pieces, and, like most dates of this type, it is easy to locate in just about any condition, including Mint State. Over three hundred have been graded in the MS62 to MS64 range and even gems at the MS65 and MS66 levels are fairly plentiful. At least a dozen MS7 examples are known. The finest is the colorful MS68 pictured above.
Most examples show a strong strike, with ample detailing of the hair and feathers.
Diameter
15.90 millimeters
Metal
89.2% Silver, 10.8% Copper
Region
The United States of America
Price Guide
PCGS Population
Auctions - PCGS Graded
Auctions - NGC Graded
Rarity and Survival Estimates

Learn More
65 or Better
3000
All Grades
750
60 or Better
100
65 or Better
R-4.4
All Grades
R-5.5
60 or Better
R-8.0
65 or Better
12 / 14 TIE
All Grades
13 / 14
60 or Better
11 / 14 TIE
65 or Better
12 / 14 TIE
All Grades
13 / 14
60 or Better
11 / 14 TIE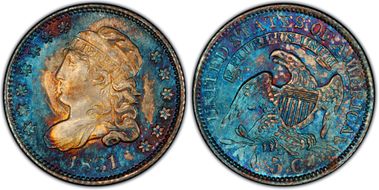 #1 MS68 PCGS grade

Knoxville Collection - The Mint (Jay Parrino), sold privately - Bob R. Simpson Collection - Tom Bender Collection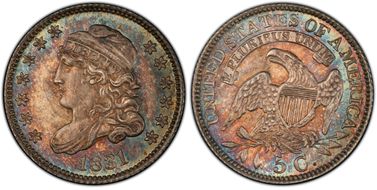 #2 MS67+ PCGS grade

Louis E. Eliasberg, Sr. Collection - Bowers & Merena 5/1996:915, $13,200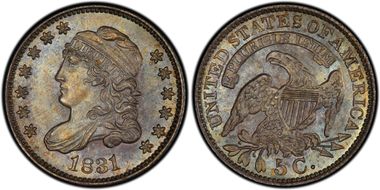 #3 MS67 PCGS grade

Pinnacle Rarities, sold privately in 7/2003 - D. Brent Pogue Collection - Stack's/Bowers & Sotheby's 5/2015:1021, $11,162.50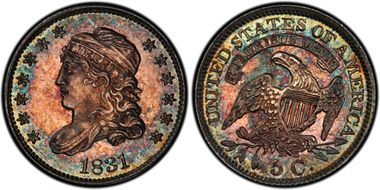 #3 MS67 PCGS grade

Goldbergs 6/2014:285, $11,750 - Stack's/Bowers 8/2015:265, $7,050 - Goldbergs 9/2018:314, not sold - D.L. Hansen Collection
#3 MS67 PCGS grade

Heritage 4/2009:13, $8,913 - Heritage 1/2012:3109, $9,775