1832 10C MS66
Certification #81043468,
PCGS #4521
Owner's Comments
JR-3, Ex. Lovejoy. CAC - Finest known for the variety.
Expert Comments
Ron Guth
The 1832 Dime has the fourth smallest mintage among the Small Diameter Dimes. Five other dates have larger mintages, which places the 1832 in the middle of the rarity scale. The point of this ranking is to show what a good value this date is since it can be purchased for the same price as any of the much more common dates. Mint State examples are readily available, though only is small quantities. Most Mint State examples fall into the MS62 to MS64 grade range. In MS65, the 1832 Dime becomes rare; in MS66, this date becomes a true condition-rarity. The finest example is a single PCGS MS67.
Seven die varieties comprise the entire mintage for this year.
Diameter
18.50 millimeters
Metal
89.2% Silver, 10.8% Copper
Region
The United States of America
Price Guide
PCGS Population
Auctions - PCGS Graded
Auctions - NGC Graded
Rarity and Survival Estimates

Learn More
65 or Better
1500
All Grades
250
60 or Better
25
65 or Better
R-4.8
All Grades
R-6.6
60 or Better
R-9.0
65 or Better
14 / 18 TIE
All Grades
14 / 18 TIE
60 or Better
14 / 18 TIE
65 or Better
31 / 35 TIE
All Grades
30 / 35 TIE
60 or Better
29 / 35 TIE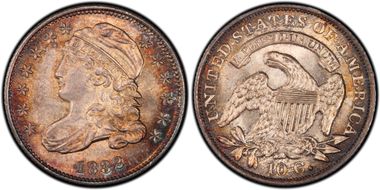 #1 MS67 PCGS grade

High Desert Collection (PCGS Set Registry)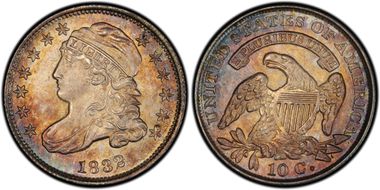 #2 MS66+ PCGS grade

Louis E. Eliasberg, Sr. Collection - Bowers & Merena 5/1996:1094, $8,140 - Stack's/ANR 10/2006:78, $14,950 - Heritage 4/2009:2239, $23,000 - Larry Hanks - D. Brent Pogue Collection - Stack's/Bowers & Sotheby's 2/2016:3039, $49,350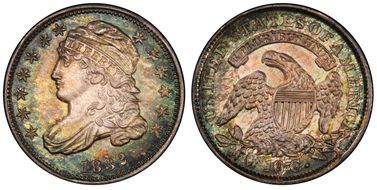 #2 MS66 PCGS grade
#2 MS66 PCGS grade
#2 MS66 PCGS grade