1834 10C Large 4 MS67
Certification #25666692,
PCGS #4526
Owner's Comments
JR-1, CAC This coin is one of most magnificent bust dimes that exist, The toning is gorgeous with very prooflike surfaces on obverse and reverse. Previously, this coin was graded 68 by NGC.
Expert Comments
Ron Guth
1834 Dimes are found with either a Small 4 or a Large 4 in the date (the image above shows the clear difference between the two). According to the PCGS Population Report, the two types appear to be of equal rarity, though there are fewer Mint State examples of the Large 4. Of the Mint State 1834 Large Date Dimes, the most common grade is MS-64 and the highest grade is MS-67 (where three appear at that level as of May 2011).
---
Gordon Wrubel
Quickfinder Notes: On the Large 4 variety the 4 is MUCH LARGER than the adjacent 3. The Small 4 is the SAME SIZE as the adjacent 3. The Large 4 is less common in Mint State, 50 versus 77, as of Sept, 2012. But in the highest grades the Large 4 shows three examples in MS 67, and three in MS 66. The Small 4 shows only 1 example in MS 67 and two in MS 66.
Diameter
18.50 millimeters
Metal
89.2% Silver, 10.8% Copper
Region
The United States of America
Price Guide
PCGS Population
Auctions - PCGS Graded
Auctions - NGC Graded
Rarity and Survival Estimates

Learn More
65 or Better
750
All Grades
75
60 or Better
12
65 or Better
R-5.5
All Grades
R-8.2
60 or Better
R-9.5
65 or Better
7 / 18
All Grades
7 / 18
60 or Better
6 / 18 TIE
65 or Better
22 / 35
All Grades
19 / 35 TIE
60 or Better
19 / 35 TIE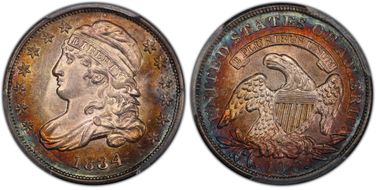 #1 MS67+ PCGS grade

RARCOA, sold privately - Richard Burdick - Foxfire Collection (Claude E. Davis, MD), sold privately in 10/1996 - D. Brent Pogue Collection, Part III - Stack's/Bowers & Sotheby's 2/2016:3042, $70,500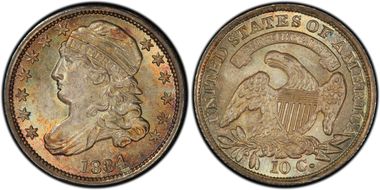 #2 MS67 PCGS grade

Dr. Charles Link Collection
#2 MS67 PCGS grade

Stack's/Bowers 7/2013:4066, $28,200 - "Easton" Collection (PCGS Set Registry)
#2 MS67 PCGS grade

American Numismatic Rarities 1/2005:349, $18,400 - Richard C. Jewell Collection - Stack's/Bowers 8/2011:7274, $29,900
#5 MS66 PCGS grade