1836 H10C Large 5C MS66+
Certification #06666550,
PCGS #4287
Expert Comments
Gordon Wrubel
Quickfinder Notes: The 5 on the Large 5C variety has Long Curving Top and is the SAME SIZE as the C. The Small 5C variety has a Short Triangular Top 5 that is SMALLER than the C. The Large 5C variety is more common by a factor of three in all grades, but is twice as rare in top condition (66 or better). The highest graded, currently, is MS-67. The Small 5C variety boasts a MS -68 example.
Diameter
15.90 millimeters
Metal
89.2% Silver, 10.8% Copper
Region
The United States of America
Price Guide
PCGS Population
Auctions - PCGS Graded
Auctions - NGC Graded
Rarity and Survival Estimates

Learn More
65 or Better
1000
All Grades
200
60 or Better
35
65 or Better
R-5.0
All Grades
R-7.0
60 or Better
R-8.8
65 or Better
7 / 14
All Grades
7 / 14
60 or Better
6 / 14
65 or Better
7 / 14
All Grades
7 / 14
60 or Better
6 / 14
#1 MS67 PCGS grade
#2 MS67 estimated grade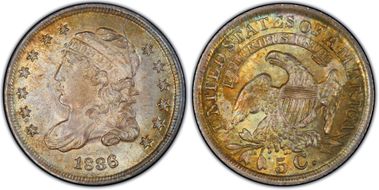 #3 MS66+ PCGS grade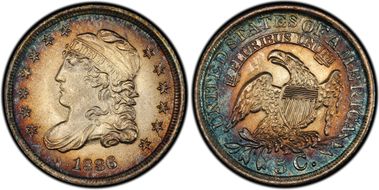 #3 MS66 PCGS grade

Mid-American Rare Coin Galleries, sold privately in 3/2000 - Foxfire Collection (Claude E. Davis, MD), sold privately (as an entire collection) on 10/5/2004 - D. Brent Pogue Collection - Stack's/Bowers & Sotheby's 5/2015:1031, $9,400
#3 MS66 PCGS grade