1837 10C No Stars, Small Date MS65
Certification #21314594,
PCGS #4562
1837 10C No Stars, Small Date
Owner's Comments
Mintage: 682,500 (Both date sizes)
Obverse Dies: 3 Known

The No Stars obverse shows the Christian Gobrecht rendering of the Thomas Sully design, while the reverse has a wreath with ONE DIME, thin long leaves with long stemmed closed berries and the legend UNITED STATES OF AMERICA. All design elements except the date were hubbed into the master die, a technological breakthrough for the time period. First coinage of this group was 30 brilliant proofs struck on June 30, 1837 at the direction of Mint Director, Robert Patterson.

Plate Coin: Fortin 104, Ahwash 2, Small Date, Heavily Clashed Reverse, Original Rose/Blue Toning On Pristine Surfaces. There are two different Small Date obverse dies with one having a heavier punched date than the other. Fortin 104 is the "lighter" Small Date punch. The "heavier" Small Date obverse is sometimes attributed as a Large Date by the grading services so inspection of 1837 Large Date dimes in grading service holders is recommended.
Expert Comments
Ron Guth
1837 was the debut year for the new Seated Liberty Dime. The first Dimes of the year bore a so-called "Large Date", a curious, transitional date with a serif on the top bar of the 3 and a flat-topped 7. Later in the year, a "Small Date" was introduced which became the standard size and style for the next several years. The Small Date variety has a round-top 3 that distinguishes it from the flat-topped 3.
According to Breen, "Large date 1837's were saved as first of their kind" but the same was not true of the Small Dates. Breen's statement is corroborated by the PCGS Population Report, which shows a population for the 1837 Small Date at nearly a fourth of that of the 1837 Large Date. Mint State examples of the Small Date are scarce and usually appear in grades from MS62 to MS64, inclusive. Gems are very rare. The best example is the single PCGS MS66+ illustrated above.
Designer
Thomas Sully/Christian Gobrecht
Diameter
17.90 millimeters
Metal
90% Silver, 10% Copper
Region
The United States of America
Price Guide
PCGS Population
Auctions - PCGS Graded
Auctions - NGC Graded
Rarity and Survival Estimates

Learn More
65 or Better
400
All Grades
75
60 or Better
9
65 or Better
R-6.2
All Grades
R-8.2
60 or Better
R-9.6
65 or Better
1 / 3
All Grades
1 / 3 TIE
60 or Better
1 / 3 TIE
65 or Better
40 / 122 TIE
All Grades
60 / 122 TIE
60 or Better
45 / 122 TIE
#1 MS66+ PCGS grade

Bob Simpson Collection - Heritage 9/2010:3615, $25,300 - Jim O'Neal Collection of U.S. Type, Part One - Heritage 4/2014:5566, $29,375 - Heritage 1/2015:4063, not sold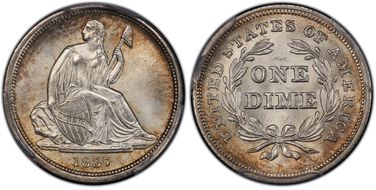 #2 MS66 PCGS grade

Heritage 10/2015:3143, $14,688.68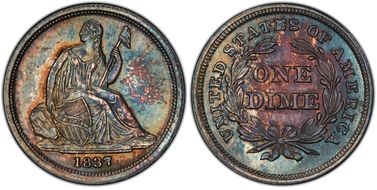 #2 MS66 PCGS grade

Bill Nagle, sold privately in 5/2003 - Eugene H. Gardner Collection - Heritage 6/2014:30244, $11,750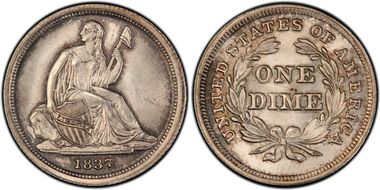 #2 MS66 PCGS grade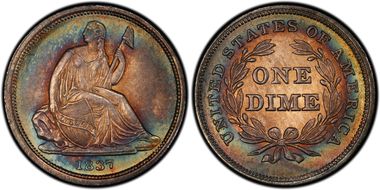 #2 MS66 PCGS grade