1837 50C Reeded Edge AU58
Certification #29672810,
PCGS #6176
Expert Comments
Ron Guth
The 1837 Half Dollar is a relatively common coin and it is the most available date of the Capped Bust Reeded Edge type (if one goes only by mintage). However, it is the only common date of the "50 Cents" sub-type. The quality of surviving 1837 Half Dollars is rather high and the PCGS CoinFacts Condition Census is filled with MS66 examples. Unfortunately, the Reeded Edge Half Dollars have been in a sort of limbo for many years. They were left out of Overton's study of Half Dollar varieties from 1794-1836 and no one paid much attention to them except as type coins. That all changed in 2012 when Dick Graham published "A Registry of Die Varieties of Reeded Edge Half Dollars." Mr. Graham identified 25 different die varieties of the 1837 Half Dollars, some of which turned out to be quite rare. In the intervening years, more and more collectors have embraced this date and the challenges presented by attempting to obtain each of the different die varieties.
As far as quality goes, one of the finest 1837 Half Dollars is the D. Brent Pogue example that sold in May 2016 as a PCGS MS67 for a record price of $111,625.
Designer
Christian Gobrecht
Diameter
30.00 millimeters
Metal
90% Silver, 10% Copper
Region
The United States of America
Price Guide
PCGS Population
Auctions - PCGS Graded
Auctions - NGC Graded
Rarity and Survival Estimates

Learn More
65 or Better
9000
All Grades
600
60 or Better
35
65 or Better
R-3.2
All Grades
R-5.8
60 or Better
R-8.8
65 or Better
2 / 2
All Grades
2 / 2
60 or Better
2 / 2
65 or Better
73 / 78 TIE
All Grades
69 / 78 TIE
60 or Better
63 / 78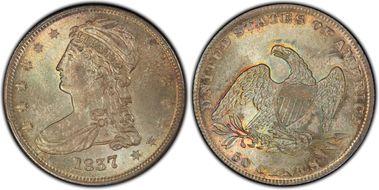 #1 MS67 PCGS grade

Knoxville Collection - The Mint (Jay Parrino) Fixed Price List 6/2003 - Oliver Jung Collection - American Numismatic Rarities 7/2004:63 (as PCGS MS67), $62,100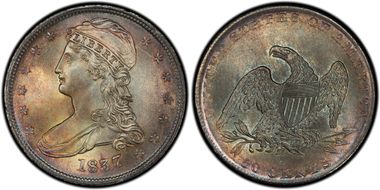 #1 MS67 PCGS grade

Heritage 8/2006:5236, $103,500 - D. Brent Pogue Collection - Stack's/Bowers & Sotheby's 5/2016:4004, $111,625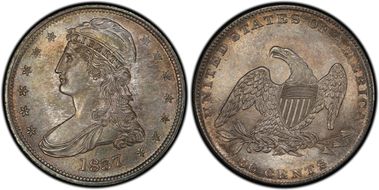 #3 MS66 PCGS grade

Heritage 7/2009:1118 - Bowers & Merena 11/2009:917 - Larry Hanks, sold privately in 3/2010 - D. Brent Pogue Collection - Stack's/Bowers & Sotheby's 5/2016:4003, $32,900 - Stack's/Bowers & Sotheby's 8/2017:2097, $30,550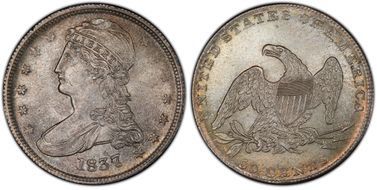 #3 MS66 PCGS grade

Highland Collection - Stack's/Bowers 2/2015:1665, $14,100 - Heritage 6/2015:3963, $17,625 - Heritage 6/2016:4525, $21,150
#3 MS66 PCGS grade

Douglas C. Kaselitz Collection - Stack's/Bowers 7/2015:5174, $38,187.50