1838-O 10C No Stars MS64
Certification #06617306,
PCGS #4564
Owner's Comments
Mintage: 489,064
Obverse Dies: 1 Known

There are two known die pairings for 1838 New Orleans coinage. Both die pairings employ the same obverse die. The initial 30 specimens of 1838-O dimes were struck on May 7-8, 1838. An additional 367,434 of Ahwash 1 were struck between June and July 1838. The final group (Ahwash 2) was struck in January 1839.

Plate Coin: Fortin 101, Ahwash 1, Repunched O/O, Consistent Medium Golden and Bronze Toning on Obverse and Reverse, Flawless Surfaces, Originally Holdered As ICG65, CoinFacts Plate Coin for 1838-O date.
Expert Comments
Ron Guth
In a survey of the members of the Liberty Seated Collectors Club, published in the March 2008 issue of the Gobrecht Journal, the 1838-O Dime was ranked tenth among the Ten Greatest New Orleans Seated Coins: "This dime was the first coin struck at the New Orleans branch mint when 30 pieces were delivered on May 7, 1838. This date is popular as a type coin and rare in mint state but average circulated pieces are generally available to the interested collectors. The Eliasberg specimen was graded MS-64 when it sold at auction in May 1996. More recently the beautifully toned Pittman specimen was graded NGC MS-64 when it was sold by DLRC Auctions in the Richmond Collection in March 2005. This issue received scattered support from respondents, most likely due to the significance each member placed upon its historical importance."
Designer
Thomas Sully/Christian Gobrecht
Diameter
17.90 millimeters
Metal
90% Silver, 10% Copper
Region
The United States of America
Price Guide
PCGS Population
Auctions - PCGS Graded
Auctions - NGC Graded
Rarity and Survival Estimates

Learn More
65 or Better
800
All Grades
75
60 or Better
7
65 or Better
R-5.4
All Grades
R-8.2
60 or Better
R-9.6
65 or Better
2 / 3
All Grades
1 / 3 TIE
60 or Better
1 / 3 TIE
65 or Better
72 / 122 TIE
All Grades
60 / 122 TIE
60 or Better
45 / 122 TIE
#1 MS65+ PCGS grade

Heritage 4/2015:4988, $32,900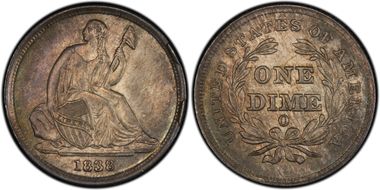 #2 MS65 PCGS grade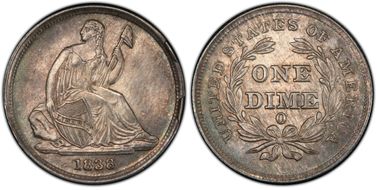 #2 MS65 PCGS grade

Heritage 9/2015:3811, $25,850 - Legend Rare Coin Auctions 5/2016:89, $24,675 - Stack's/Bowers 8/2016:3071, not sold - Heritage 8/2017:3927, $17,625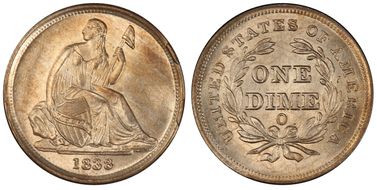 #2 MS65 PCGS grade

David Lawrence 8/2008:5007 - Legend Numismatics, sold privately in 8/2007 - Eugene H. Gardner Collection, Part II - Heritage 10/2014:98238, $28,200 - Stack's/Bowers 11/2016:2052, $19,975 - "Stiel" Collection (PCGS Set Registry)
#2 MS65 PCGS grade