1838 10C No Drapery, Small Stars MS65
Certification #06617304,
PCGS #4569
1838 10C No Drapery, Small Stars
Owner's Comments
Mintage: 1,992,500
Obverse Dies: 8 Known

Working dies of 1838 through 1840 were created from the No Stars hub of 1837. Each working die had 13 individual stars hand punched resulting in variations in star placement and size. One obverse in 1838 features smaller stars from a punch intended for half dimes and is known as the Small Stars Obverse. The Stars Obverse type was struck at the Philadelphia during 1838 through 1840 and at the New Orleans mint during 1839 and 1840. For the 1838 Philadelphia date, eight different obverse dies have been identified. Many of the obverse dies are found today with important late die states where the die shows large die cracks that tranverse the obverse.

Plate Coin: Condition Census Gem
Expert Comments
Ron Guth
In 1838, 13 stars were added to the obverse of the Dime. Each star was hand-punched into the die, thus the spacing and the placement of the stars is not uniform on individual varieties. Intentional or not, one variety was created using star punches normally used on Half Dimes. Appropriately named the "Small Stars" variety, this one can be "eyeballed" because the stars are smaller and more widely spaced than on the "Large Stars" varieties. Also, the "Small Stars" variety is often found with a die crack connecting the stars on the left. The "Small Stars" variety is roughly seven times rarer than the "Large Stars" variety.
Sources and/or recommended reading:
"Walter Breen's Complete Encyclopedia of U.S. and Colonial Coins" by Walter Breen
Designer
Thomas Sully/Christian Gobrecht
Diameter
17.90 millimeters
Metal
90% Silver, 10% Copper
Region
The United States of America
Price Guide
PCGS Population
Auctions - PCGS Graded
Auctions - NGC Graded
Rarity and Survival Estimates

Learn More
65 or Better
500
All Grades
60
60 or Better
12
65 or Better
R-6.0
All Grades
R-8.4
60 or Better
R-9.5
65 or Better
3 / 7
All Grades
3 / 7
60 or Better
4 / 7
65 or Better
57 / 122 TIE
All Grades
54 / 122 TIE
60 or Better
53 / 122 TIE
#1 MS67 estimated grade

Gulf Coast Collection - Heritage 10/2001:5932, $12,075 - Bob R. Simpson Collection - Heritage 9/2010:3617, $29,900 - Eugene H. Gardner Collection, Part II - Heritage 10/2014:98239, $25,850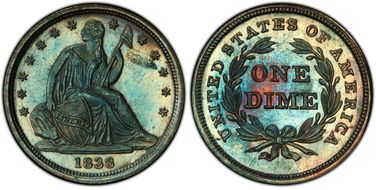 #2 MS66+ PCGS grade

Jason Carter, sold privately in 11/2004 - Eugene H. Gardner Collection, Part IV - Heritage 10/2015:98229, $10,575 - Heritage 6/2016:4383, $9,988 - Stack's/Bowers 8/2017:2060, $10,575 - The Type Set Collection (Oliver Jung) (PCGS Set Registry)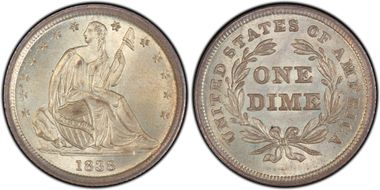 #3 MS65 PCGS grade

Heritage 8/2004:5663, $5,060 - Gerry Fortin Collection (PCGS Set Registry)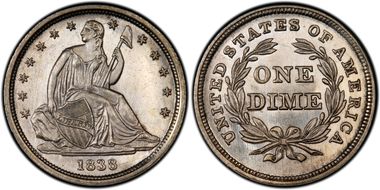 #3 MS65 PCGS grade
#3 MS65 PCGS grade

Stack's/Bowers 3/2014:5223, $3,965.63