1839 1C N-9 Silly Head, BN MS66BN
Certification #-4795,
PCGS #37234
1839 1C N-9 Silly Head, BN
Owner's Comments
PCGS grade. Ex Empire Coin Co.-Louis Helfenstein duplicate-Lester Merkin-C. Douglas Smith-Del Bland 1/73-C. Douglas Smith-Jerry A. Bobbe 6/14/82. (The collection envelope has a note that reads "Most beautiful Silly Head seen!" I can't see any hyperbole in that statement.). This coin was pedigreed on 8/21/15 and now resides in a MS67BN holder.
Diameter
28.00 millimeters
Region
The United States of America
Price Guide
PCGS Population
Auctions - PCGS Graded
Auctions - NGC Graded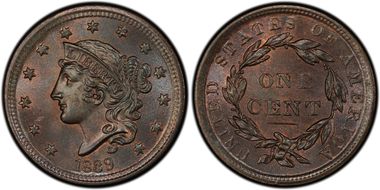 #1 MS67BN PCGS grade

Empire Coin Co. - Louis Helfenstein Collection (duplicate) - Lester Merkin - C. Douglas Smith Collection - Del Bland Collection, sold privately in 1/1973 - C. Douglas Smith Collection - Jerry A. Bobbe, sold privately on 6/14/1982 - R. E. "Ted" Naftzger, Jr. Collection - Goldbergs 2/2009:460, $21,275 - Cardinal Collection - Stack's/Bowers 1/2013:13057, $21,150 - D. Brent Pogue Collection, Part V - Stack's/Bowers & Sotheby's 3/2017:5195, $35,250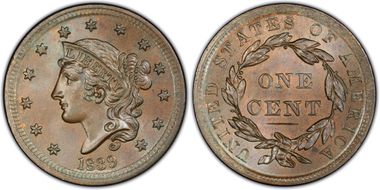 #2 MS66BN PCGS grade

Carl Wurtzbach Collection - Judge Joseph Sawicki; 1964 ANA sale, lot 184 - Bill Behringer, sold privately on 4/11/1967 - R.E. "Ted" Naftzger Collection, Part II - Goldbergs 2/2009:459, $7,763 - Stack's/Bowers & Sotheby's 2/2016:79, not sold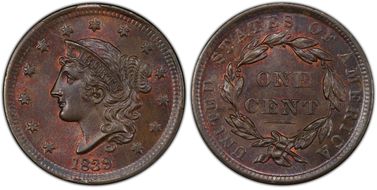 #2 MS66BN PCGS grade

Howard R. Newcomb Collection - J.C. Morgenthau 5/1945:710 - Floyd T. Starr Collection - Stack's 6/1984:384 - R.E. "Ted" Naftzger, Jr. Collection, sold privately in 2/2001 - Twin Leaf Collection - Stack's/Bowers 3/2016:10201, $4,465 - Heritage 1/2017:3149, $8,812.50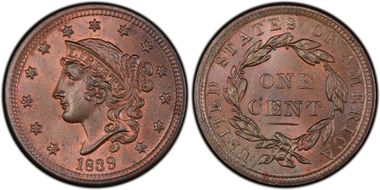 #2 MS66BN PCGS grade

Stack's/Bowers 11/2012:3009, not sold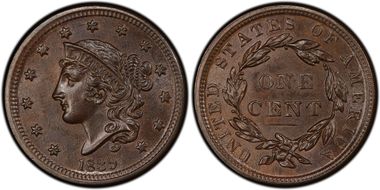 #2 MS66BN PCGS grade