1839 50C Capped Bust AU58
Certification #30980963,
PCGS #6179
Expert Comments
Ron Guth
The 1839 Capped Bust Half Dollar is the second rarest of the four dates in this series; only the 1836 Reeded Edge boasts a smaller mintage. Calling this an 1839 Reeded Edge Half Dollar is incorrect, since the 1839 Seated Liberty Half Dollar also has a Reeded Edge. However, the connection goes even further than that. The 1839 Capped Bust Half Dollar comes with two different reverses: Large Letters and Small Letters. In actuality, the size of the lettering is almost identical, so we must rely on other characteristics to differentiate the reverses:
1. Large Letters Reverse - legends close to the outer border. Eagle larger, with olive leaves and arrowheads closer to the border. This design was a holdover from 1838. Common.
2. Smsall Letters Reverse - legends farther away from the borders. Eagle smaller, with olive leaves and arrowheads well away from the border. This is the design that was also used on 1839 Seated Liberty Half Dollars. Rare.
Mint State examples of the 1839 Capped Bust, Large Letters Reverse Half Dollar are somewhat scarce, though not nearly as plentifuol as the 1836 Reeded Edge and the 1839-O. Gems are quite rare, with only a handful of PCGS MS65 examples known. The finest example is a single PCGS MS66.
Designer
Christian Gobrecht
Diameter
30.00 millimeters
Metal
90% Silver, 10% Copper
Region
The United States of America
Price Guide
PCGS Population
Auctions - PCGS Graded
Auctions - NGC Graded
Rarity and Survival Estimates

Learn More
65 or Better
3500
All Grades
200
60 or Better
10
65 or Better
R-4.3
All Grades
R-7.0
60 or Better
R-9.5
65 or Better
3 / 4
All Grades
3 / 4
60 or Better
1 / 4 TIE
65 or Better
55 / 78 TIE
All Grades
55 / 78
60 or Better
42 / 78 TIE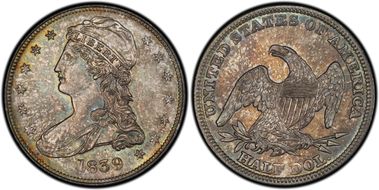 #1 MS66 PCGS grade

Lawrence Stack type set, sold intact in 1/2003 - D. Brent Pogue Collection - Stack's/Bowers & Sotheby's 5/2016:4009, $51,700 - Dr. Charles Link Collection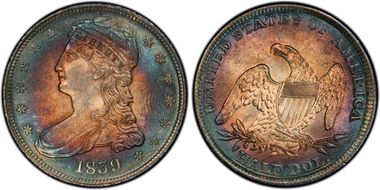 #2 MS65 PCGS grade

Larry Whitlow, sold privately in 6/1992 - Haig A. Koshkarian Collection - American Numismatic Rarities "Classics Sale" 3/2004:82, $25,300 - Dale Friend Collection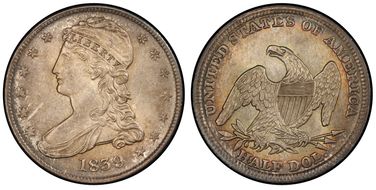 #2 MS65 PCGS grade

Bowers & Merena 3/2004:1473 - Eugene H. Gardner Collection - Heritage 6/2014:30480, $38,187.50 - Dr. Charles Link Collection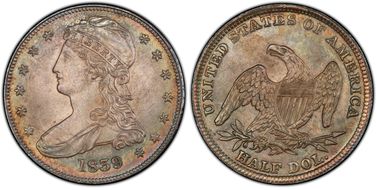 #2 MS65 PCGS grade
#2 MS65 PCGS grade

Heritage 1/2015:4131, $39,950