1839 50C Seated, Drapery AU55
Certification #10751849,
PCGS #6232
Expert Comments
Ron Guth
1839 Seated Liberty Half Dollars come in two variations: Wiith Drapery and Without Drapery, referring to the fold of drapery (or lack thereof) beneath Liberty's left arm (viewer's right). The earliest version of the 1839 Seated Liberty Half Dollar match the 1838's in that there is no drapery below Liberty's elbow. Later in 1839, engravers added drapery to balance out the dessign. Subsequent to this change, and "No Drapery" varieties are unintentional and were caused when over-zealous polishing removed the drapery from the die, either partially or fully.
Across all grades, the 1839 Drapery Half Dollar is slightly less common than the No Drapery inb
Designer
Thomas Sully/Christian Gobrecht
Diameter
30.00 millimeters
Metal
90% Silver, 10% Copper
Region
The United States of America
Price Guide
PCGS Population
Auctions - PCGS Graded
Auctions - NGC Graded
Rarity and Survival Estimates

Learn More
65 or Better
1200
All Grades
75
60 or Better
3
65 or Better
R-4.9
All Grades
R-8.2
60 or Better
R-9.8
65 or Better
53 / 66 TIE
All Grades
44 / 66 TIE
60 or Better
13 / 66 TIE
65 or Better
90 / 126 TIE
All Grades
71 / 126 TIE
60 or Better
18 / 126 TIE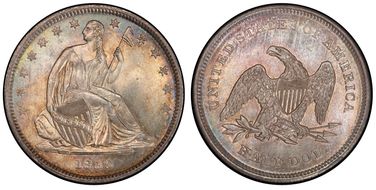 #1 MS65+ PCGS grade

Rev. Dr. James G.K. McClure Collection - Heritage 6/2016:4527, $15,275 - Heritage 1/2017:5663, $15,275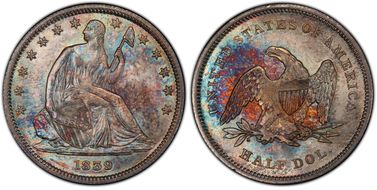 #1 MS65+ PCGS grade

Stack's 1/2002:1451, $6,900 - Eugene H. Gardner Collection - Heritage 6/2014:30483, $14,100 - Stack's/Bowers & Sotheby's 10/2015:37, not sold - Stack's/Bowers 4/2016:13078, $14,100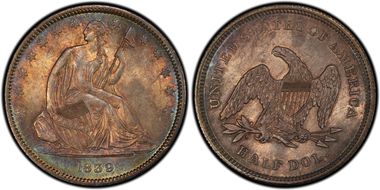 #3 MS65 PCGS grade

Mid-American Rare Coin Auctions 2/1985:481 - James Bennett Pryor Collection - Bowers & Merena 1/1996:98 - Heritage 10/2009:673, $13,800 - D. Brent Pogue Collection, Part V - Stack's/Bowers & Sotheby's 3/2017:5027, $21,150
#3 MS65 PCGS grade

Richard B. Winsor Collection - S.H. & H. Chapman 12/1895:??? - John M. Clapp Collection - John H. Clapp Collection, sold intact in 1942 - Louis E. Eliasberg, Sr. Collection - Bowers & Merena 4/1997:1915, $12,100 - Palakika Collection - Heritage 5/2007:2133, $18,400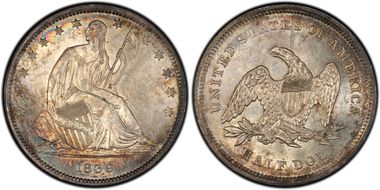 #5 MS64 PCGS grade