1839 50C Seated, No Drapery VF30
Certification #10796979,
PCGS #6230
1839 50C Seated, No Drapery
Expert Comments
Ron Guth
The 1839 "No Drapery" Half Dollar is named after it's most obvious feature -- the lack of a fold of drapery beneath Liberty's left arm (the one on the viewer's right). Later in the year, the obverse design was modified, not only by adding the drapery, but by changing the shape of the rock on which Liberty sits, and by altering the folds in her gown.
According to the PCGS Population Report (as of June 2011), the 1839 No Drapery Half Dollar is slighly more scarce than the 1839 With Drapery Half Dollar, not only in all grades, but in Mint State, as well. The most frequently-seen Mint State grade is MS-63 (11 graded). The 1839 No Drapery Half Dollar becomes very scarce in MS-64 and authentically rare in MS-65 (3 graded). None have been graded finer.
Designer
Thomas Sully/Christian Gobrecht
Diameter
30.00 millimeters
Metal
90% Silver, 10% Copper
Region
The United States of America
Price Guide
PCGS Population
Auctions - PCGS Graded
Auctions - NGC Graded
Rarity and Survival Estimates

Learn More
65 or Better
1500
All Grades
50
60 or Better
3
65 or Better
R-4.8
All Grades
R-8.5
60 or Better
R-9.8
65 or Better
1 / 1
All Grades
1 / 1
60 or Better
1 / 1
65 or Better
99 / 126 TIE
All Grades
51 / 126 TIE
60 or Better
18 / 126 TIE
#1 MS66 estimated grade

Joseph C. Thomas Collection - Heritage 1/2011:5558 - Heritage 8/2011:7161, not sold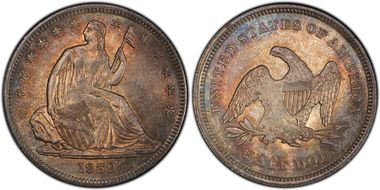 #2 MS65 PCGS grade

Heritage 4/2011:5147, $115,000 - Stack's/Bowers 8/2011:7356, not sold - Heritage 8/3/2012:5150, $152,750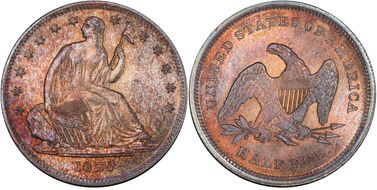 #2 MS65 PCGS grade

Lawrence Stack Type Set, sold privately in 1/2003 - D. Brent Pogue Collection, Part V - Stack's/Bowers & Sotheby's 3/2017:5026, $141,000 - The Type Set Collection (Oliver Jung) (PCGS Set Registry) - D.L. Hansen Collection
#2 MS65 PCGS grade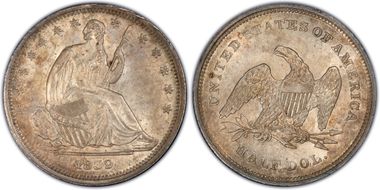 #5 MS64 PCGS grade