1840 H10C No Drapery MS64
Certification #85170556,
PCGS #4321
Expert Comments
Ron Guth
1840 was a transitional year for half dimes. The earliest versions were of the No Drapery type, which lacked the fold of drapery under Liberty's left arm (viewer's right). Later versions showed a modified design, now with drapery, a redesigned rock, and an upright shield. Of the two versions, the No Drapery is easily the most common.
Close examination of the image shown above of the PCGS MS68 reveals a heavily cracked die which was about to break up into three larege chunks. These breaks are not universal to 1840 No Drapery Half Dimes, but they add interest to this date. Collectors will have little to no difficulty finding Mint State versions of this variety, as dozens have been certified in each of the MS62, MS63, and MS64 grades.
Designer
Christian Gobrecht
Diameter
15.90 millimeters
Metal
90% Silver, 10% Copper
Region
The United States of America
Price Guide
PCGS Population
Auctions - PCGS Graded
Auctions - NGC Graded
Rarity and Survival Estimates

Learn More
65 or Better
1000
All Grades
300
60 or Better
40
65 or Better
R-5.0
All Grades
R-6.4
60 or Better
R-8.7
65 or Better
4 / 6
All Grades
4 / 6 TIE
60 or Better
3 / 6
65 or Better
59 / 79 TIE
All Grades
63 / 79 TIE
60 or Better
53 / 79 TIE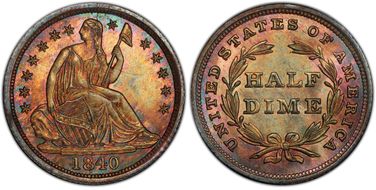 #1 MS68 PCGS grade

Knoxville Collection - Jay Parrino (The Mint) - Bob R. Simpson Collection - Tom Bender Collection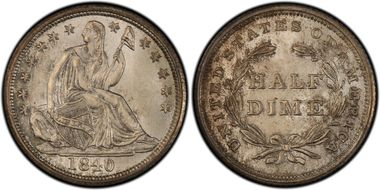 #2 MS67+ PCGS grade

Heritage 1/2016:3689, $5,875 - Stack's/Bowers 11/2016:4080, $6,462.50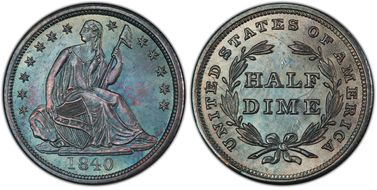 #2 MS67+ PCGS grade
#4 MS67 PCGS grade

Joseph O'Connor, sold privately in 10/2003 - Eugene H. Gardner Collection - Heritage 6/2014:30187, $7,637.50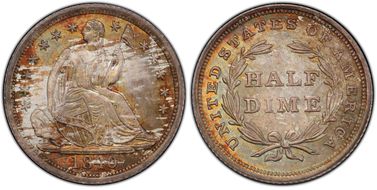 #4 MS67 PCGS grade

Goldbergs 6/2014:299, $14,100