1840-O 10C No Drapery MS62
Certification #07440787,
PCGS #4574
Owner's Comments
Mintage: 1,175,500
Obverse Dies: 7 Known

Obverse 4 is one of 7 different 1840 New Orleans obverse dies. This obverse comes fairly well struck but is already showing signs of die erosion around the stars. Use the repunching on Stars 9 through 11 to identify this obverse die. The reverse is also well struck with a nicely centered Small O mintmark. To date, 5 Small O reverse dies have been identified. This reverse die has begun to show die erosion. Die cracks from the rim to ERIC in AMERICA are evident.

Plate Coin: Fortin-103, Ex. Lovejoy, Small O of 1839, Even Light Gold Toning, Very Rare Mintmark Variety
Expert Comments
Ron Guth
The 1840-O No Drapery Dime is easily the rarest date in this short-lived series. It has the lowest total population of the No Drapery type, the smallest number of Mint State examples, and the quality of Uncirculated examples shifts toward the lower end of the spectrum. The typical Mint State grade is only MS62 and, even there, only a few examples exist. The best example is a single PCGS MS65.
Unlike the 1840 Dimes from the Philadelphia Mint (which comes in No Drapery and With Drapery versions), the 1840-O comes only one way: No Drapery. Because collectors have only one option for the 1840-O Dime, there is even more upwards price pressure on this date.
The strike quality of the 1840-O Dime is inconsistent. Virtually all examples show weakness on the denticles. Normally, the stars are well-struck, or decently so, but other examples may show weakness on the shield and the O of ONE on the reverse (two opposing high points).
Mintmarks come in three different sizes: tiny, medium and large. The large mintmark variety appears to be the rarest.
Designer
Thomas Sully/Christian Gobrecht
Diameter
17.90 millimeters
Metal
90% Silver, 10% Copper
Region
The United States of America
Price Guide
PCGS Population
Auctions - PCGS Graded
Auctions - NGC Graded
Rarity and Survival Estimates

Learn More
65 or Better
300
All Grades
200
60 or Better
1
65 or Better
R-6.4
All Grades
R-7.0
60 or Better
R-10.0
65 or Better
2 / 7
All Grades
5 / 7 TIE
60 or Better
1 / 7
65 or Better
24 / 122 TIE
All Grades
88 / 122 TIE
60 or Better
1 / 122 TIE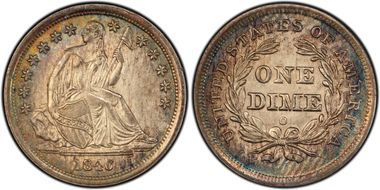 #1 MS65 PCGS grade

Joseph C. Thomas Collection - Heritage 4/2009:2251 - Eugene H. Gardner Collection - Heritage 6/2014:30247, $38,187.50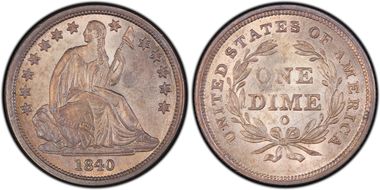 #2 MS64 PCGS grade
#2 MS64 PCGS grade

Stack's 10/2005:571 - Eugene H. Gardner Collection - Heritage 6/2014:30246, $28,200
#2 MS64 estimated grade
#5 MS63 PCGS grade