1840-O H10C Drapery MS61
Certification #38603398,
PCGS #4327
Expert Comments
Ron Guth
The 1840 Half Dime with Drapery has the lowest mintage of any of the Half Dime varieties of 1840. Understandably, it is also the rarest and most valuable. In Mint State, this major variety is extremely rare, with only three examples recorded in the PCGS CoinFacts Condition Census. Even then, the finest example is only MS63. In fact, the 1840-O Half Dime with Drapery, per the PCGS Population Report, has the lowest population in all grades than every other date, with the exception of the unique 1870-S. Even the vaunted 1844-O shows nearly twice as many examples.
The strike characteristics for the 1840-O Half Dime with Drapery include weakness on the upper left wreath and, sometimes, on the obverse denticles. However, in this case, the rarity of the date trumps our normal advice to seek out a fully struck example. Take whatever you can get.
Designer
Robert Ball Hughes/Christian Gobrecht
Diameter
15.90 millimeters
Metal
90% Silver, 10% Copper
Region
The United States of America
Price Guide
PCGS Population
Auctions - PCGS Graded
Auctions - NGC Graded
Rarity and Survival Estimates

Learn More
65 or Better
100
All Grades
4
60 or Better
0
65 or Better
R-8.0
All Grades
R-9.8
60 or Better
R-10.1
65 or Better
1 / 36
All Grades
1 / 36 TIE
60 or Better
1 / 36
65 or Better
2 / 79
All Grades
2 / 79 TIE
60 or Better
1 / 79
#1 MS64 PCGS grade

Joseph O'Connor, sold privately in 2/2004 - Eugene H. Gardner Collection - Heritage 6/2014:30190 - Legend Rare Coin Auctions 12/2014:36, $23,500 - Heritage 2/2015:3053, not sold - Legend Rare Coin Auctions 9/2015:77, $31,725 - Heritage 6/2016:4367, $25,850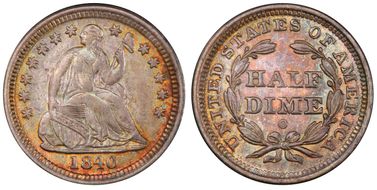 #2 MS62+ PCGS grade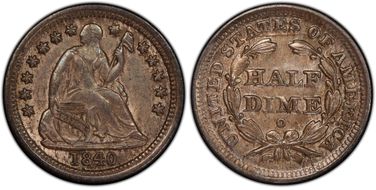 #3 MS62 PCGS grade
#3 MS62 estimated grade
#5 AU58 PCGS grade