1841-O 50C AU58
Certification #26278222,
PCGS #6237
Expert Comments
Ron Guth
The 1841-O Half Dollar is a semi-scarce date from the New Orleans Mint. It is comparable in overall rarity to the 1840-O and the 1843-O, but is much less scarce than the 1841. Even in Mint State, it is fairly easy to obtain, though the most frequently seen Uncirculated grade is MS62. On the PCGS side, a small cluster of MS64s and a single MS64+ top out the Population Report, while the best example certified by NGC is single MS66 (they report two in that grade, but we have not been able to identify the second example).
The overall strike quality is good for a New Orleans Mint product, thought it is generally not as sharp as a coin from Philadelphia. Usually, any weakness occurs on the eagle's right (viewer's left) leg.
Designer
Thomas Sully/Christian Gobrecht
Diameter
30.00 millimeters
Metal
90% Silver, 10% Copper
Region
The United States of America
Price Guide
PCGS Population
Auctions - PCGS Graded
Auctions - NGC Graded
Rarity and Survival Estimates

Learn More
65 or Better
700
All Grades
50
60 or Better
0
65 or Better
R-5.6
All Grades
R-8.5
60 or Better
R-10.1
65 or Better
38 / 66 TIE
All Grades
32 / 66 TIE
60 or Better
1 / 66
65 or Better
64 / 126 TIE
All Grades
51 / 126 TIE
60 or Better
1 / 126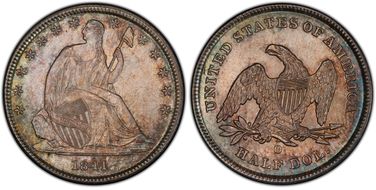 #1 MS66 PCGS grade

RARCOA "Auction '90" 8/1990:707 - Jason Carter, sold privately in 8/2004 - Eugene H. Gardner Collection - Heritage 5/2015:98461, $27,025
#2 MS65 estimated grade

Superior "Chalkley" 1/1990:3569 - Silbermünzen Collection - Heritage 5/2008:655, $40,250 - Heritage 10/2008:897, $51,750 - Bay State Collection - Heritage 7/2009:1121, $32,200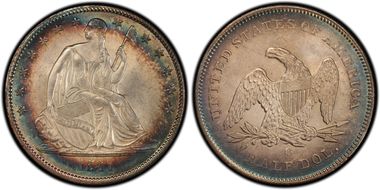 #3 MS64+ PCGS grade

Heritage 7/2013:3159, $14,100
#4 MS64 PCGS grade
#4 MS64 PCGS grade