1842-O H10C AU53
Certification #39650160,
PCGS #4331
Expert Comments
Ron Guth
The 1842-O Half Dime has one of the lower mintages of this series, yet it is still quite affordable in most grades. Most of the other dates in this series have higher surviving populations, so calling this an under-appreciated date is completely appropriate. The finest example is a single PCGS MS66.
The overall strike characteristics are usually strong, and most examples show good detailing of the central devices. The only weakness, if any, usually appears on the details.
Designer
Robert Ball Hughes/Christian Gobrecht
Diameter
15.90 millimeters
Metal
90% Silver, 10% Copper
Region
The United States of America
Price Guide
PCGS Population
Auctions - PCGS Graded
Auctions - NGC Graded
Rarity and Survival Estimates

Learn More
65 or Better
250
All Grades
25
60 or Better
7
65 or Better
R-6.6
All Grades
R-9.0
60 or Better
R-9.6
65 or Better
9 / 36 TIE
All Grades
8 / 36
60 or Better
10 / 36 TIE
65 or Better
14 / 79 TIE
All Grades
11 / 79 TIE
60 or Better
16 / 79 TIE
#1 MS66 PCGS grade

Discovered in Switzerland - Stuart C. Levine Collection - Bowers & Merena 4/1986:2079 - Stack's 11/2008:3314, $20,000 - Stack's 7/2009:282, $25,300 - Eugene H. Gardner Collection, Part III - Heritage 5/2015:98163, $18,800 - Tom Bender Collection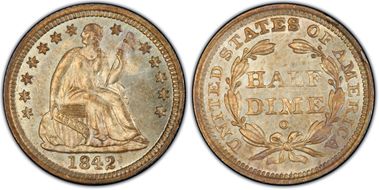 #2 MS65 PCGS grade

Bob R. Simpson Collection - Tom Bender Collection
#2 MS65 PCGS grade

Goldbergs 6/2002:2058 - Eugene H. Gardner Collection, Part IV - Heritage 10/2015:98133, $17,625
#2 MS65 PCGS grade

Goldbergs 2/2010:944, $11,500 - Stacks's/Bowers 8 8/2012:11295, not sold - Goldbergs 6/2014:301, not sold - Stack's/Bowers 8/2014:13063, not sold - Stack's/Bowers 8/2016:3056, $11,750 - Heritage 11/2016:5179, not sold - Heritage 2/2017:3687, $11,750
#2 MS65 PCGS grade