1842-O 50C Small Date, Rev 1839 G6
Certification #08384655,
PCGS #6238
1842-O 50C Small Date, Rev 1839
Expert Comments
Ron Guth
In a survey of the members of the Liberty Seated Collectors Club, published in the March 2008 issue of the Gobrecht Journal, the 1842-O Small Date Half Dollar was ranked fourth among the Ten Greatest New Orleans Seated Coins: "This is a very rare date that is usually found in average circulated grades. It is very rare in mint state with the Eliasberg specimen being described as MS-62, prooflike, probably the finest known when it appeared at auction by Bowers and Merena in April 1997. Only two respondents placed this issue at the top of their list but it received generally strong support with 67% of the members placing it in the 2nd through 8th position in their listing."
Designer
Thomas Sully/Christian Gobrecht
Diameter
30.00 millimeters
Metal
90% Silver, 10% Copper
Region
The United States of America
Price Guide
PCGS Population
Auctions - PCGS Graded
Auctions - NGC Graded
Rarity and Survival Estimates

Learn More
65 or Better
100
All Grades
4
60 or Better
0
65 or Better
R-8.0
All Grades
R-9.8
60 or Better
R-10.1
65 or Better
4 / 66
All Grades
4 / 66 TIE
60 or Better
1 / 66
65 or Better
5 / 126
All Grades
7 / 126 TIE
60 or Better
1 / 126
#1 MS63 PCGS grade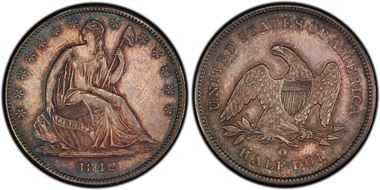 #2 MS62 PCGS grade

Dick Osburn Collection - Stack's/Bowers 8/2012:11446, not sold
#2 MS62 estimated grade

Louis E. Eliasberg, Sr. Collection - Bowers & Merena 4/1997:1921 - Douglas L. Noblet Collection - Bowers & Merena 1/1999:72, $24,150 - Dick Osburn Collection - Stack's/Bowers 8/2011:7011 - Dick Osburn, sold privately in 8/2012 - Eugene H. Gardner Collection - Heritage 6/2014:30487, $29,375
#4 AU58 PCGS grade
#4 AU58 PCGS grade