1843 $1 MS64+
Certification #81226397,
PCGS #6929
Owner's Comments
The Sterling specimen. Lovely iridescent toning over near perfect surfaces. Surely the finest of the few graded.
Expert Comments
Ron Guth
The 1843 Silver Dollar is a relatively common coin, on par with most of the other dates from the 1840's. In Mint State, the 1843 Silver Dollar is scarce, and usually found in baggy MS-62 and MS-63. Gem examples are essentially non-existent, and the finest examples certified by PCGS (as of November 2011) are five MS-64s, some of which are illustrated above.
---
Q. David Bowers
The following narrative, with minor editing, is from my "Silver Dollars & Trade Dollars of the United States: A Complete Encyclopedia" (Wolfeboro, NH: Bowers and Merena Galleries, Inc., 1993).
Coinage Context
Silver still a problem: Silver supplies remained a problem, and fewer 1843 Liberty Seated dollars were struck than could have been had domestic supplies been larger. As noted, dollars were only struck for those bullion depositors specifically requesting them. However, had there been more bullion, there would have been more deposits made. As it was, the production amounted to 165,100 circulation strikes, one of the more generous figures of the era.
Silver dollars not popular: The silver dollar remained secondary to the half dollar in terms of use and acceptance in the channels of commerce. In the same year, 1843, 3,844,000 half dollars were struck at the Philadelphia Mint and 2,268,000 at New Orleans, for a total face value amounting to $3,056,000, or over 18 times more value in half dollars than silver dollars. Even the total face value of quarter dollars amounted to more than the value of silver dollars.
Clearly, silver dollars were not popular as circulating coins, any more than in later decades. One reason for this is that a dollar was worth a day's pay or more, and many transactions for merchandise and services could be handled more satisfactorily with half dimes, dimes, quarters, or half dollars. Even the lowly copper cent had significant purchasing value at the time.
Numismatic Information
Circulated grades: In circulated grades the 1843 is very plentiful. In fact, it may be the most common of the dates in the 1840s (which constitute a class of study into themselves, for coins of this decade were primarily struck for domestic circulation, rather than for export purposes). The 1842 and 1843 seem to run neck .and neck in terms of availability. In 1984 a study by John Kroon in The Gobrecht Journal found 1843 to be the most common dollar of this era, while a 1977 study by Ron Severa in the same publication picked 1842 for this distinction.
Mint State grades: In MS-64 or higher grade the 1843 dollar is an extreme rarity. This is somewhat curious, for in worn grades it is very common. As noted earlier, such situations contribute to the fascination of collecting Liberty Seated coins of this denomination.
In 1982, Bruce Amspacher stated that he knew of no specimen that could be called MS-65, a grade that today would be equal to MS-63 or so. (Article, "Liberty Seated Dollars," in the Monthly Summary, Coin Dealer Newsletter, July-August, 1982.) Â "But with a mintage of over 165,000 one has to exist somewhere, doesn't it?" he asked.
Varieties
Circulation strikes:
1. Heavy Date: Breen-5429. Repunching on 1 of date. At least three obverse dies were used to coin "Heavy Date" dollars, making the three varieties. Often seen with repunching on the third and/or first numerals. Often prooflike, sometimes with die striae from incomplete polishing.
2. Heavy Date: Breen-5429. Repunching on 1 and 4 of date.
3. Thin Numerals variety: Breen-5430, "Thin numerals," with the serifs appearing "hairlike" and with repunching on the 4. Reverse has heavy die file marks in the white shield stripes.
Circulation strike mintage: 165,100; Delivery figures by day: January 31: 83,000; February 28: 25,500; November 30: 56,600.
Estimated quantity melted: Unknown
Characteristics of striking: Varies; topmost stars and head of Miss Liberty are often lightly struck.
Known hoards of Mint State coins: None
Commentary
Despite a relatively high mintage, 1843 is very rare in higher levels of Mint State.
Designer
Christian Gobrecht
Diameter
38.10 millimeters
Metal
90% Silver, 10% Copper
Region
The United States of America
Price Guide
PCGS Population
Auctions - PCGS Graded
Auctions - NGC Graded
Rarity and Survival Estimates

Learn More
65 or Better
3500
All Grades
75
60 or Better
0
65 or Better
R-4.3
All Grades
R-8.2
60 or Better
R-10.1
65 or Better
25 / 30
All Grades
18 / 30
60 or Better
1 / 30
65 or Better
39 / 45
All Grades
25 / 45 TIE
60 or Better
1 / 45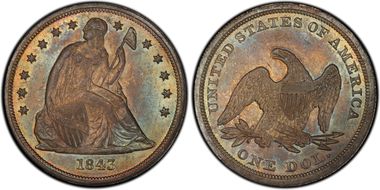 #1 MS64+ PCGS grade

Heritage 11/2004:7588 - Heritage 2/2005:7358 - Legend Numismatics, sold privately in 4/2005 - Eugene H. Gardner Collection - Heritage 6/2014:30593, $51,406.25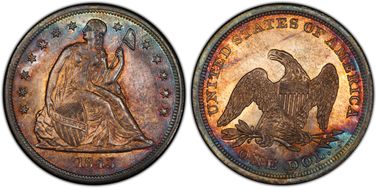 #1 MS64+ PCGS grade

Legend Collection - D.L. Hansen Collection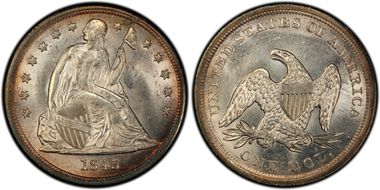 #3 MS64 PCGS grade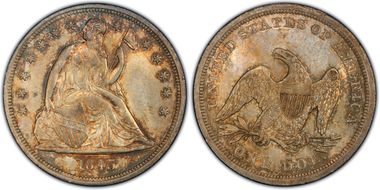 #3 MS64 PCGS grade
#3 MS64 PCGS grade

American Numismatic Rarities 11/2004:1540, $13,000 - Superior 3/2006:14, $10,062