1845-O 10C AU55
Certification #04829235,
PCGS #4587
Owner's Comments
Mintage: 230,000
Obverse Dies: 1 Known

1845-O dimes are extremely rare in Mint State, with the Eliasberg 1845-O dime being the finest known. Several well struck AU coins have been offered at conventions and Internet auctions in the past several years. The current CoinValues pricing in AU50 through MS63 grades remains understated.

Plate Coin: Fortin 101, Pittman Pedigree, Well Struck Example in a Condition Census Grade, Beautiful Rose, Green and Blue Toning
Expert Comments
Ron Guth
The 1845-O Dime is the rarest of the O-Mint Dimes of the 1840's, though the 1843-O is not far behind. Both of those dates are exceedingly rare in Mint State, but the 1845-O shines because of a remarkable item that is a standout among all Seated Liberty coins of all denominations - a single PCGS MS69 1845-O Dime. This remarkable coin is superb in every respect, but especially in the area of eye appeal. It is simply stunning.
After the MS69, there are only a few Mint State 1845-O Dimes - two raw examples in the MS63 to MS64 range, plus a PCGS MS62. Below that, it is difficult to find this date in any grade above AU50. This is primarily because of the dearth of coin collectors in 1845 and the overall lack of interest in collecting by mintmarks.
Designer
Robert Ball Hughes/Christian Gobrecht
Diameter
17.90 millimeters
Metal
90% Silver, 10% Copper
Region
The United States of America
Price Guide
PCGS Population
Auctions - PCGS Graded
Auctions - NGC Graded
Rarity and Survival Estimates

Learn More
65 or Better
300
All Grades
4
60 or Better
1
65 or Better
R-6.4
All Grades
R-9.8
60 or Better
R-10.0
65 or Better
7 / 34 TIE
All Grades
2 / 34 TIE
60 or Better
1 / 34 TIE
65 or Better
24 / 122 TIE
All Grades
3 / 122 TIE
60 or Better
1 / 122 TIE
#1 MS69 PCGS grade

Matthew A. Stickney Collection - Henry Chapman 6/1907:??? - John H. Clapp Collection, sold intact 1942 - Louis E. Eliasberg, Sr. Collection - Bowers & Merena 5/1996:1132 - Bowers & Merena 5/2005:403, $161,000 - Eugene H. Gardner Collection - Heritage 5/2015:98226, $123,376.18
#2 MS64 estimated grade

Waldo E. "Pat" Bolen, Jr. Collection - Stack's/RARCOA/Akers "Numisma '95" 11/1995:2075, $2,640
#3 MS63 estimated grade

Northern Bay Collection - Stack's 3/2006:4233, $17,250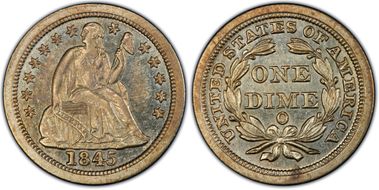 #4 MS62 PCGS grade

Bob R. Simpson Collection of Seated Dimes - Heritage 9/2010:3630, $23,000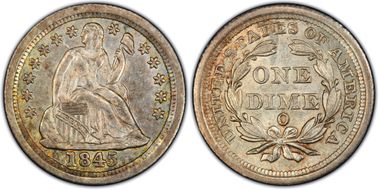 #5 AU58 PCGS grade