1846 25C N1
Certification #38907101,
PCGS #5409
Expert Comments
Ron Guth
The 1846 Quarter Dollar has a middle-of-the-road mintage for a coin of this denomination from this decade. The mintage is almost half that of the 1843-O and the 1845, and is slightly higher than the 1841-O, the 1847-O and the 1849. However, original mintages have little to do with modern coin values, which are derived from the number of survivors, not from the number made. Thus, thanks to a decent mintage and a sufficient population of survivors, the 1846 remains one of the more affordable dates from the 1840's.
On the high end, PCGS has certtified only 17 Mint State 1846 Quarter Dollars, most of which grade MS63. The finest examples are a pair of PCGS MS65s. Because it was a product of the Philadelphia Mint, the 1846 Quarter Dollar usually features a strong strike and uniform detailiing.
Designer
Robert Ball Hughes/Christian Gobrecht
Diameter
24.30 millimeters
Metal
90% Silver, 10% Copper
Region
The United States of America
Price Guide
PCGS Population
Auctions - PCGS Graded
Auctions - NGC Graded
Rarity and Survival Estimates

Learn More
65 or Better
375
All Grades
35
60 or Better
3
65 or Better
R-6.2
All Grades
R-8.8
60 or Better
R-9.8
65 or Better
17 / 49 TIE
All Grades
20 / 49 TIE
60 or Better
8 / 49 TIE
65 or Better
34 / 114 TIE
All Grades
42 / 114 TIE
60 or Better
19 / 114 TIE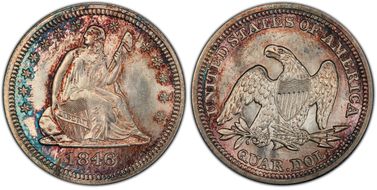 #1 MS65 PCGS grade

Stack's/Bowers 8/2012:11343, not sold - Heritage 4/2013:4207, $13,513 - Heritage 12/2014:3544, $9,106
#1 MS65 PCGS grade

Bowers & Merena 8/2001:133, $8,740 - Eugene H. Gardner Collection, Part IV - Heritage 10/2015:98416, $10,575 - Tom Bender Collection (PCGS Set Registry)
#1 MS65 PCGS grade
#1 MS65 estimated grade

Heritage 1/2014:5214, $22,325 - Eugene H. Gardner Collection, Part III - Heritage 5/2015:98336, $14,100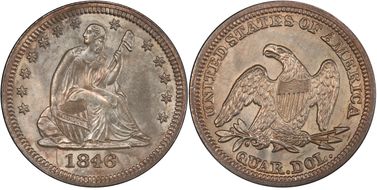 #5 MS64+ PCGS grade