1846-O $1 VF35
Certification #31701947,
PCGS #6933
Expert Comments
Q. David Bowers
The following narrative, with minor editing, is from my "Silver Dollars & Trade Dollars of the United States: A Complete Encyclopedia" (Wolfeboro, NH: Bowers and Merena Galleries, Inc., 1993).
Coinage Context
New Orleans issue: After construction commencing in 1835 and the setting up of equipment in 1837, the New Orleans Mint opened for business in 1838. However, it struck no silver dollars until 1846. This was the first of only four dates of Liberty Seated dollars from this mint: 1846-O, 1850-O, 1859-O, and 1860-O.
Although some 1846-O dollars may have been exported, and most likely many were melted, many also circulated within the confines of the United States, probably in the Mississippi Valley.
The Assay Commission found that silver coins (of all denominations, taken as a class) from the New Orleans Mint produced in 1846 assayed a remarkably high. 9011 fine, which was above the legal standard (but still within the legal tolerance of .987 to .903); This was far out of the range of normal variation from the .900 standard, as reflected in Assay Commission reports.
Numismatic Information
Circulated grades: The 1846-O has always been relatively easy to find in circulated grades below Extremely Fine (but EF or better pieces are quite rare). I suspect that this issue circulated widely and saw use in the channels of commerce up and down the Mississippi River Valley, especially riverboats (which numbered in the hundreds) and casinos. Relatively few must have been melted or exported. As the first branch mint silver dollar and as an issue of the New Orleans Mint, the 1846-O has always occupied a place of affection in collectors' hearts.
Mint State grades: In Mint State the 1846-O is very rare; just how rare is not known with certainty. Some of the specimens seen by me have been so deeply toned that it is impossible for anyone (including a certification service) to determine, for example, whether they are AU-58 or Mint State. Notwithstanding this, a top grade 1846-O is an object of desirability. In MS-63 or better grade it is a prime rarity.
Varieties
Business strikes: Breen-5437:
1. Obverse: Normal. Reverse: With heavy O mintmark.
2. Obverse: Normal. Reverse: With "normal" O mintmark.
3. Obverse: Normal. Reverse: With very weak and thin O mintmark.
Business strike mintage: 59,000; Delivery figures by month: June: 59,000.
Estimated quantity melted: Unknown
Characteristics of striking: Average strike, often showing weakness, particularly on the eagle's head and claws; stars at the right side of the obverse are often weak.
Known hoards of Mint State coins: None
Commentary
This was the first branch mint Liberty Seated dollar and one of just four dates coined from the New Orleans Mint (the others: 1850-O, 1859-O, and 1860-O).
Additional Information
What Might Have Been
What might have been but wasn't is an appropriate comment on the shipment of four pairs of dies from Philadelphia to New Orleans for use in coining 1847-O dollars, but no such coins were ever made. Four more pairs were shipped from Philadelphia to New Orleans for making 1848-O dollars, but these too never materialized.
The Treasury also intended that 1849-O dollars be made, and one obverse die bearing that date was shipped to New Orleans, to be mated with one or more reverses left over from earlier times. However, no 1849-O dollars were made. As it turned out, 1849 was a year for silver rarities at the New Orleans Mint, and collectors today recognize the half dime, dime, and quarter of the 1849 issue as elusive.
Designer
Christian Gobrecht
Diameter
38.10 millimeters
Metal
90% Silver, 10% Copper
Region
The United States of America
Price Guide
PCGS Population
Auctions - PCGS Graded
Auctions - NGC Graded
Rarity and Survival Estimates

Learn More
65 or Better
1900
All Grades
45
60 or Better
0
65 or Better
R-4.6
All Grades
R-8.6
60 or Better
R-10.1
65 or Better
19 / 30 TIE
All Grades
8 / 30 TIE
60 or Better
1 / 30
65 or Better
29 / 45 TIE
All Grades
14 / 45 TIE
60 or Better
1 / 45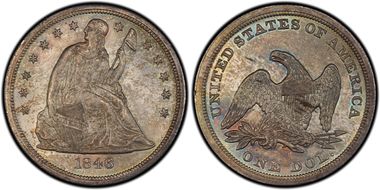 #1 MS64+ PCGS grade

Heritage 1/2015:4169, $70,501 - Legend Collection - Bruce Morelan Collection - D.L. Hansen Collection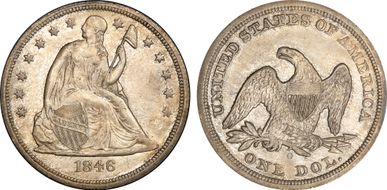 #2 MS64 PCGS grade

Heritage 10/2015:3378, not sold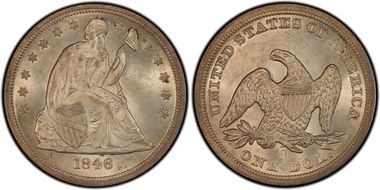 #2 MS64 PCGS grade

Linnemann Family Collection - Stack's/Bowers 6/2013:2027, $44,062.50 - Heritage 11/2014:3800, $35,308.75 - Mesquite Collection (cat-matched) - Heritage 4/2017:4101, $37,600 - Heritage 8/2017:4027, $35,250 - D.L. Hansen Collection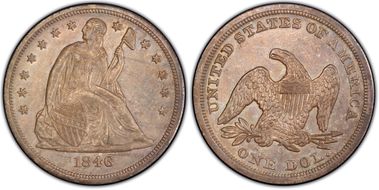 #4 MS63+ PCGS grade

Goldbergs 2/2006:1709, $18,400 - Heritage 7/2006:2651, $25,300 - OBrien Collection
#5 MS63 PCGS grade

John G. Mills Collection - S.H. & H. Chapman 4/1904 - John M. Clapp Collection - John H. Clapp Collection, sold intact in 1942 - Louis E. Eliasberg, Sr. Collection - Bowers & Merena 4/1997:2213, $46,200